GBI, Air Force EOD respond to detonate live antique cannonball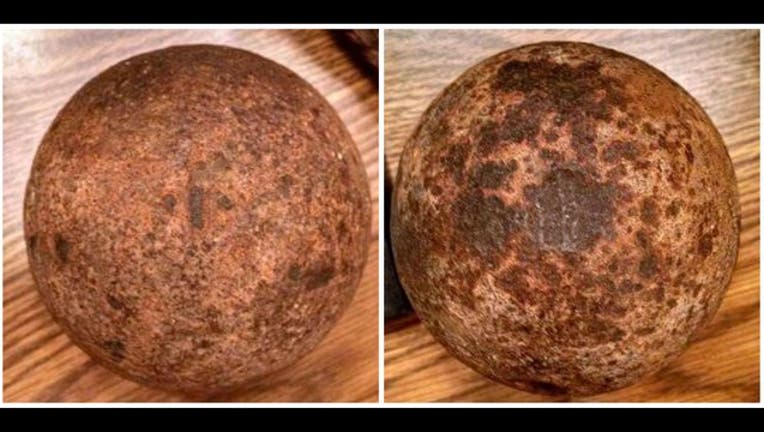 Several agencies responded to a home in Cumming to detonate a live cannonball. 
Antique shop owner Nancy Haff unknowingly brought the live cannonball into her home on July 10th on consignment from another collector. 
"I was helping a lady liquidate her lifelong collection of antiques and collectibles." Haff explained.

Haff's husband Don, who is also an Atlanta police officer, became a little suspicious of the device and began to do research.  
He noticed the cannonball had a fuse plug and warned his wife that it could potentially be live artillery. 
Nancy Haff began to take detailed pictures and sent them off to the Civil War Museum in Kennesaw, The Civil War Trust, and The American Civil War Museum. 
"Kennesaw Museum was the first to respond with an eyebrow raising one-line: Please contact your local police department immediately regarding the cannonball," said Haff.
The Civil War Trust responded saying: Assume the ordnance is live and let trained professionals make sure it is defused properly. 
She drove to the police department and requested to be directed to their bomb department.
They told Haff that she had to call 911 in order for a report to be on file.
"I introduced myself, gave my address and said something like: "I believe I'm going to need the bomb squad to be called out to my address.  I have a bomb sitting on my kitchen table," explained Haff. 
Shortly after the call, police, the Forsyth Fire Department, the Georgia Bureau of Investigation's bomb squad responded along with the Air Force Explosive Ordnance Disposal. 
The Haff family was asked to stay outside as they investigated.
"I asked if I could watch, but they said no. I stood on my back porch and thought I heard its farewell pop," Haff explained.
The GBI detonated the cannonball in a nearby quarry.
The Forsyth County fire battalion chief said a nine-pound cannonball with shrapnel can blast up to a quarter-mile.
No one was injured.
According the GBI bomb tech on scene, about 12 people a year are killed handling antique artillery.
"All in all, we are alive, our house is in one piece and have a great story to tell," said Haff.