Fulton County blocks emails from Atlanta due to cyberattack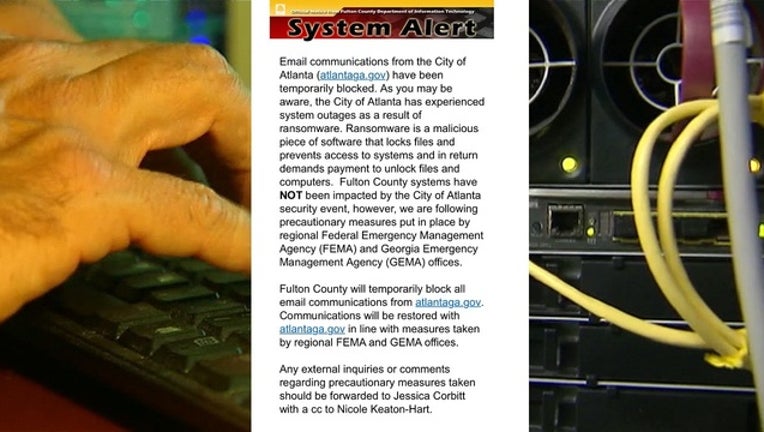 ATLANTA - Fulton County government said they are blocking all electronic communications with the city of Atlanta following a ransomware cyberattack on the city's servers Thursday. That is according to alert obtained by FOX 5 News.
"Email communications from the City of Atlanta (atlantaga.gov) have been temporarily blocks," an alert sent out by the county stated.
RELATED: Atlanta mayor releases services update following cyberattack
The alert goes on to state that Fulton County's systems have not been directly impacted, but the county is "following precautionary measures put in place by regional Federal Emergency Management Agency (FEMA) and Georgia Emergency Management Agency (GEMA) offices."
A source told FOX 5 News one example would be the Fulton County District Attorney's Office and the Atlanta Police Department wouldn't be allowed to exchange emails about cases. The same source quipped that fax machines are being dusted off in those offices.
Fulton County stated in the alert that communications will be fully restored once they are cleared by those agencies.
Thursday, Atlanta officials announced that some of the data on their servers was encrypted in a ransomware cyberattack. The culprit behind the attack demanded $51,000. The city said they are working around the problem and it hasn't impacted any services.
RELATED: Atlanta Mayor: No evidence citizen, employee data compromised in cyberattack