Florida QB's Dad: 'I am still very proud of my son'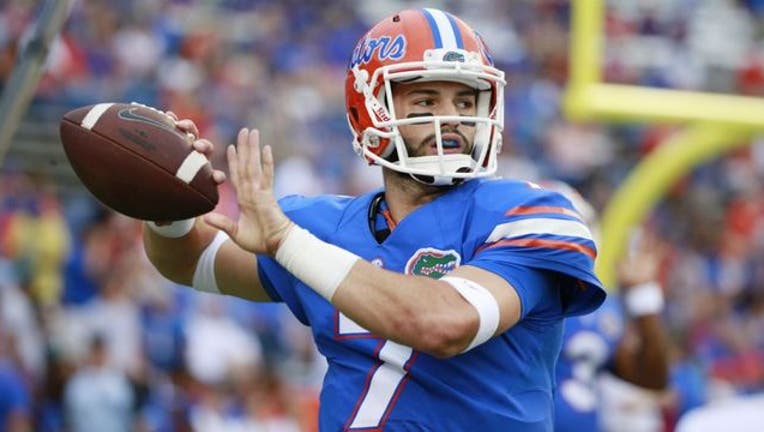 It's not uncommon for rabid college football fans, especially in the SEC, to take pleasure when players of rival teams get in trouble.
After all, the pain for one fan base may mean your team has a better chance for a victory and a championship.
But all of us need to remember that college football players are still kids, in most cases teenagers and in the best cases young adults who are likely to make mistakes.
That's the reminder written by Chad Grier in an article for SportingNews.com.
Chad, who is the head coach at Davidson Day Private School in Davidson, North Carolina, is the father of Florida QB Will Grier.
On Monday, Will was suspended for one year for violating the NCAA's policy on performance-enhancing drugs. Grier failed an NCAA drug test in the last two weeks and said Monday he took an over-the-counter supplement that "had something in it." Will apologized and said he hopes "people can learn from this."
Florida, which declined to reveal the banned supplement, will appeal in hopes of getting Grier's suspension reduced.
All college football fans who take pleasure in the problems of an opposing player should read this. It will make you think.
Posted on October 14, 2015 on SportingNews.com:
Crisis seems to bring out the best and the worst in people. This is especially true in sports.
Part of what makes college football, SEC football in particular, so special is the passion of the fan bases. For many years, I have enjoyed the gameday traditions and the fanatical support bred at college campuses across the country — especially in the SEC. Watching my son camp at Georgia and Tennessee was a thrill for me. Seeing him interact with coaches at Auburn and Alabama was really cool. And being there when he was offered a scholarship at the University of Florida was an experience I'll never forget.
This past weekend we went to Missouri to see the Gators earn their sixth straight victory and a No. 8 ranking in the national polls. Will and his teammates got back to Gainesville around 3 a.m. after a great SEC road win in high spirits and ready to attack a huge game at LSU this Saturday night in Death Valley. About the time I was heading to school to meet my team for weights and film, I got a call from Will.
When you sign on to play in the SEC, you know going in that it's big-boy football. For most of the players in this conference, just getting there is the fulfillment of an entire childhood spent training, working and preparing for the opportunity. I watched my son invest countless hours into the weight room, film study, footwork, throwing into nets and the hands of friends and teammates. His grind was the kind passed down from the blue-collar roots of generations of his family before him that afforded his parents, and then himself, new opportunities and better neighborhoods and schools. It led to the achievement of his childhood dreams.
His story is not mine to tell. But I do know the facts. I do know that his mistake was one of naiveté, not of malice. I do know that he had no idea that he had done anything he thought was wrong, let alone the NCAA.
If and when he's ready, he'll fill in the blanks.
Football has a finite shelf-life for all who play the game. The smartest of those who play use the game to sharpen life skills. When I saw my son walk to that podium to tell a room full of adults that he was sorry for his mistake, I knew that Will had used the game to become a better man.
Will loves his teammates and the University of Florida the way the most loyal SEC fans feel about their school. This crisis in Will's life has brought out the best in him as he has asked me to help him find opportunities to serve others while he waits on adults who don't even know him to decide his immediate future. He is the calming voice in our family, assuring all of us that he's OK and that God gives his toughest battles to his toughest soldiers. He doesn't see his world falling apart, he sees his world changing and he is ready to embrace it and tackle it with the same ferocity as his teammates have been attacking opposing offenses.
As a family, we have been overwhelmed by the encouragement of so many friends and strangers. Again, crisis brings out the best in some people. 
Unfortunately, crisis brings out the worst in others. It's disappointing to see the comments of those all too happy to kick a young man who has just had his life turned upside down and vilify him as if he intentionally did something wrong. I'm sure most of those folks are generally good people and just see it as having fun at someone else's expense and in a twisted way supporting their own team. Others just troll looking for something or someone to hate on. I doubt that many of these people stop to think what that would feel like if it were happening to their own son.
And to those people, my answer is yes, I am still very proud of my son. More so today than ever before! #ProudDad