The 1st FDA approved vaccine for RSV is designed for seniors, not babies
ATLANTA - The first FDA-approved vaccine for RSV, or respiratory syncytial virus, Arexvy is designed for people 60 and older.
And, if a Centers for Disease Control and Prevention vaccine expert panel recommends it next month, it could be available in time for the fall/winter RSV season.
Barney Graham, senior advisor for Global Health Equity at the Morehouse School of Medicine, says for school-age kids and adults, RSV usually feels a lot like a bad cold.
"RSV infection is very common," Graham says. "We're infected by the age of 2, usually by the age of 1, and we're repeatedly infected throughout life."
Graham says we hear a lot about RSV in babies and young children, but it is a threat to seniors too.
"As we age, and you get infected, you often become ill, especially the frail elderly," Graham says. "So, this is a problem, especially in places like nursing homes and assisted care living."
Infants, young children and people 65 and older are at highest risk of RSV-related lower respiratory tract infections such as pneumonia and bronchiolitis.
Each year in the US, the CDC estimates between 60,000 and 160,000 older adults are hospitalized by RSV and between 6,000 and10,000 die from the virus.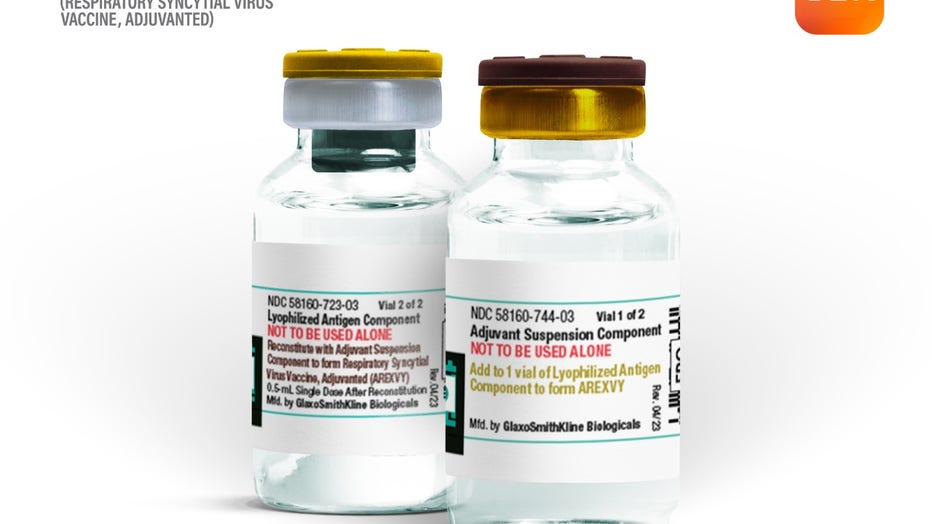 This GlaxoSmithKline image shows two vials of Arexvy, a vaccine for RSV recently approved by the US FDA.
In an ongoing clinical trial, with about 25,000 adults, Arexvy, manufactured by GlaxoSmithKline, lowered the risk of lower respiratory tract infections by 83 percent, and cut the risk of severe LRTI by 94 percent.
The most commonly reported side effects were injection site pain, fatigue, muscle pain, headache and joint stiffness/pain.
Graham, who has been studying RSV vaccines for decades at the National Institutes of Health, says early RSV vaccines were problematic.
One, given to young children in the 1960s, actually raised the risk of severe illness and hospitalization, and was linked to the deaths of two children.
"The problem is they just didn't know enough detail about the virus and the proteins on the virus and the targets for the vaccine to really know what was possibly going to happen," he said.
Now, that researchers know how to target RSV's structural vulnerabilities, Graham says we could soon have an RSV vaccine for pregnant women and an antibody treatment for newborns, both to protect babies in the first 6 months, when their lungs are still developing and vulnerable.
But, Graham says, we still need a vaccine for young children, who remain at risk of severe complications of RSV.
"We still don't have something to protect the child between 6 months and 5 years of age, and that that is still ongoing work," Graham says. "It's very important to try to get that part of it finished."