Father of the bride includes bride's stepfather in ceremony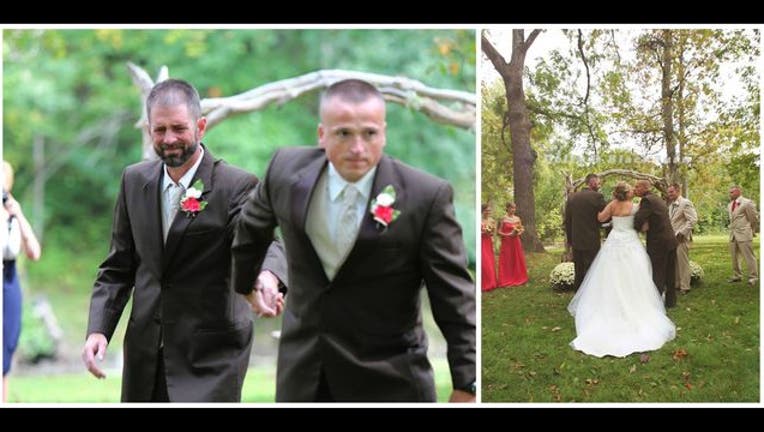 article
Weddings are usually very emotional, but an Ohio photographer captured a tear jerking moment on September 26th.
Father of the bride, Todd Bachman, was ready to walk his daughter Brittany down the aisle, but not without her stepfather Todd Cendrosky.  
The kind gesture to include Cendrosky brought tears to everyone's eyes, including the photographer Delia D Blackburn.  
"Everyone had tears. It was truly spectacular!" shared Blackburn.
The photo of both men walking Britney down the aisle has gone viral with over 45 million views.
"This picture says 1,000 words!!!! Thank you Delia D. Blackburn for capturing this amazing moment in my life," the bride wrote on Facebook.
Brittney told FOX 5 that she called her biological father two weeks before the wedding.

The nervous bride-to-be was planning to ask Bachman if her step-father could be included in the ceremony.
Before Brittney could ask the question, her father said, "I know why you are calling and I have it all planned out."
She was nervous how the ceremony would turn out. "My family didn't always get along," she explained.

The day of the wedding, Bachman left his daughter's side and walked down the aisle to approach step-father Todd Cendrosky. 
"I think you deserve this just as much as I do." "Would you walk Brittney down the aisle with me?" asked Bachman.
"My step-father was very emotional about it. He really wanted to be a part of our special day." explained Brittany Peck.
The wedding day was everything Brittney dreamed it would be.
Brittney and her husband Jeremy have been together 2  ½ years and have a beautiful son together.