Family searching for driver responsible for 23-year-old man's hit-and-run death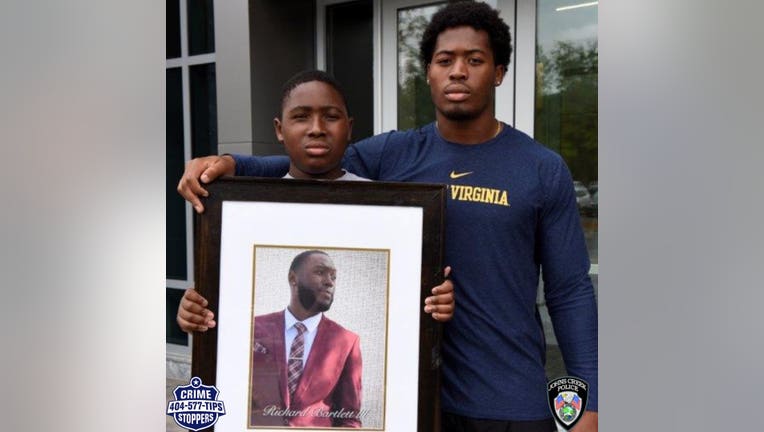 article
GWINNETT COUNTY, Ga. - The family of a Gwinnett County man killed by a hit-and-run collision in Johns Creek is hoping a reward will help find the driver responsible for his death.
It's been over two years since 23-year-old Richard Bartlett III was killed in the eastbound lanes on McGinnis Ferry Road just before the bridge at the Chattahoochee River. 
Johns Creek police said Bartlett, who is the son of Gwinnett County Deputy Tamara Bartlett, exited his vehicle to secure a mattress and box spring that was tied to the top of his vehicle around 9:30 p.m. on June 3, 2021, when he was struck by a passing vehicle.
"When he crossed the road to secure it. After he secured it he went back around to the driver's side of the door to speak with the driver. At that point a vehicle approaching from the rear swerved slightly striking the back of the vehicle hitting the pedestrian hitting and killing him," Johns Creek Police Captain Todd Hood told FOX 5 at the time. 
Hood said the car that struck Bartlett apparently turned around on the roadway and returned to the scene before driving away to Gwinnett County.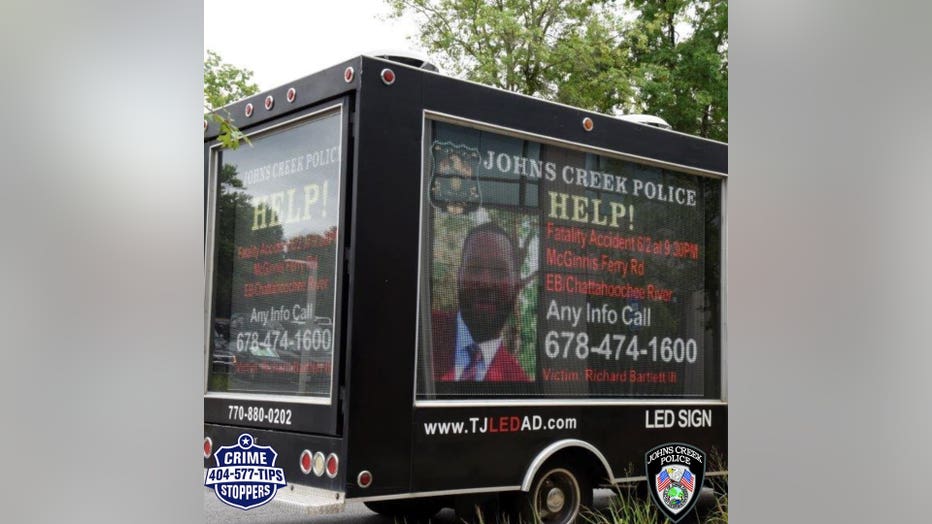 (Johns Creek Police Department)
Police described the car as a dark-in-color or black four-door sedan, possibly a BMW. It would have had damage to the front-right bumper and hood area, front windshield damage, and minor damage to the passenger side doors.
"We don't know why they fled the scene at this point. We don't know what the charges would have been if they had stopped but because they didn't stop they have a felony hit-and-run and a vehicular homicide, so now they are very serious," Hood said. 
After years of looking for leads, police have shared the story again in hopes that someone has information that can help. The family and Crime Stoppers have offered a combined reward of up to $12,000 for any information that leads to the arrest and conviction of those responsible.
Anyone with information on the crash is asked to call the Johns Creek Police Department at 470-774-3358.