Ex-President George H.W. Bush recovering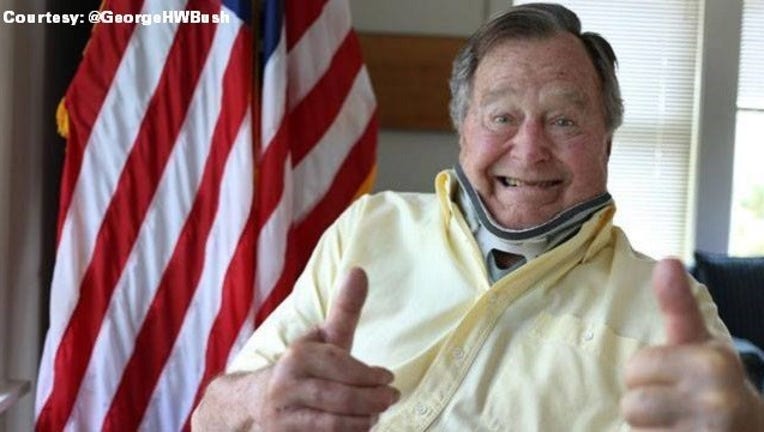 article
Former President George H.W. Bush tweeted out a heartfelt thank you to everyone who has been sending him well wishes. The 91-year-old fell at his summer home and broke a bone in his neck earlier this month.
Bush tweeted: "Who knew jumping out of planes was safer than getting out of bed? Thanks to all for your kind get-well messages."
Bush is recovering at his home to Kennebunkport.
Doctors say Bush didn't suffer nerve damage when he fell. They said they anticipate the 41st president will recover fully in three or four months.
Doctors said Bush, the oldest living former president, did not suffer any neurological damage.
Bush, who has a form of Parkinson's disease and uses a motorized scooter or a wheelchair for mobility, has suffered other recent health setbacks. He was hospitalized in Houston in December for about a week for shortness of breath. He spent Christmas 2012 in intensive care at the same Houston hospital for a bronchitis-related cough and other issues.
Still, he has taken skydives on at least three of his birthdays since leaving the White House and celebrated his 90th birthday by making a tandem parachute jump in Kennebunkport.
The Republican served two terms as Ronald Reagan's vice president before being elected president in 1988. He served one term then lost to Democrat Bill Clinton in 1992.
Bush was a naval aviator in World War II, and his torpedo plane was shot down over the Pacific. He also served as ambassador to the United Nations, envoy to China and CIA director.
He is the father of Republican former President George W. Bush. Another son, Republican former Florida Gov. Jeb Bush, is running for president in 2016.
During the winter, Bush and his wife, Barbara Bush, live in Houston.
The Associated Press contributed to this report