Entrepreneur: Bridesmaid for hire business is booming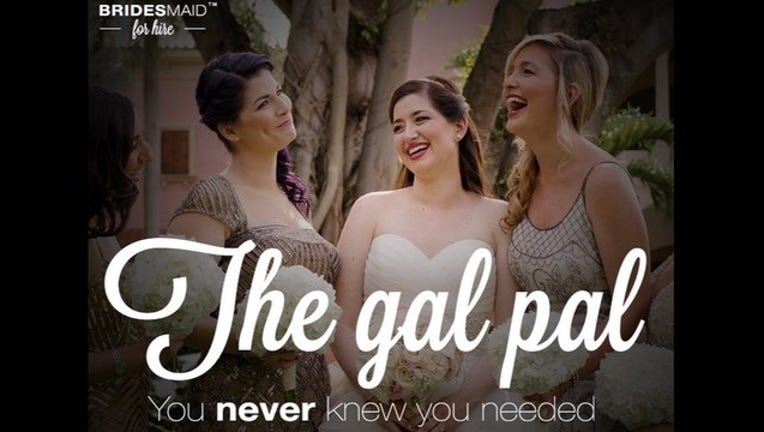 article
Planning a wedding requires a lot of decision making like decorations, food, and the growing guest list.
An entrepreneur from New York suggests you hire her as your maid of honor and forget the stress that comes with making that tough decision. 
Jen Glantz spoke to FOX 5 about her 'Brides Maid For Hire' business. 
"It simply started with an ad on Craiglist," she explained. 
Glantz has been a bridesmaid in several weddings and knows that it takes to make the day memorable.
"From the weddings I attended, I noticed no one focused on the bride and her needs," she explained. "So I decided to post the ad and test the market." 

The professional bridesmaid said she has taken part in 30 weddings and already has weddings booked for 2016! 

The Supreme Court's decision last week did make gay marriage legal around the nation. Glantz said she has already taken part in same sex marriage ceremonies.
After the decision, she decided to offer discounts for the months of July and August for any same sex couples. 
Watch Our Interview here: https://youtu.be/TDFkluQK6Iw  
Glantz offers several different packages to brides-to-be: 
Virtual Bridesmaid
Includes 1:1 consultation sessions, via online video collaboration tool, to assist with planning, problem solving, and putting together itineraries and to-do lists.
Undercover Bridesmaid
Are you a Maid of Honor or a Bride-to-be who needs some behind the scenes help? Glantz and her team will be there for you with weekly sessions, via an online video collaboration tool, to assist in the ongoing planning and facilitating of events and activities leading up-to the wedding.
Ultimate Bridesmaid
Includes everything listed in the 'Undercover Bridesmaid' package, plus in-person ground support at pre-wedding events & the day of the wedding.

Bridesmaid by Your Side
Includes everything listed in the 'Undercover Bridesmaid' package, plus actual participation as a bridesmaid or maid-of-honor in the wedding party.
Bridesmaid Boot Camp
If you're a first-time bridesmaid who needs a bit of guidance on where to start and what to do, Glantz can help guide you.