Emory grad student "joggles" thru pain of arthritis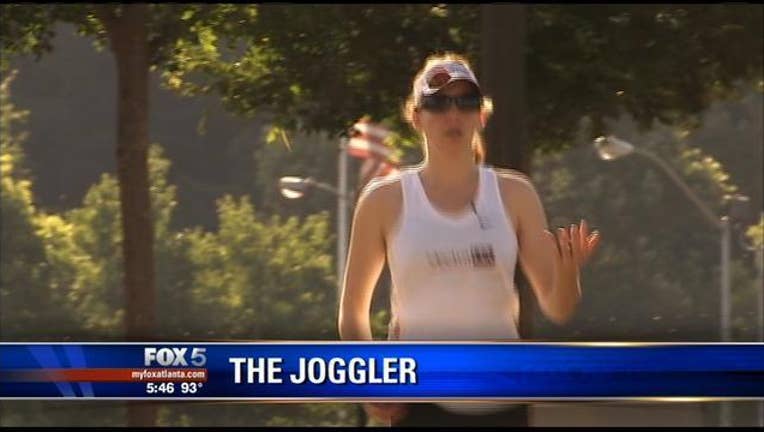 article
Dana Gugliemo is really good at not dropping the ball.  You have to be, to call yourself a joggler.
"It's really fun to wake up really early and catch people on their way to work," she said. "They're having their cup of coffee and they're, like, 'Whoa!  A joggler!'"
It's been called "goofiest sport in history," a combination of jogging and juggling, at the same time.
"I saw someone juggling a marathon," claimed Gugliemo. "And I just thought it looked awesome. So I decided to go for it."
A former college track athlete, who's been running since she was about eight, Gugliemo said she liked to challenge herself above normal and that it looked like a challenge.
It was. She said it took her a month to joggle an 18-minute mile. But, once she had the basics, it was pretty smooth sailing.
"Learning how to juggle itself is really difficult," claimed Gugliemo. "But, you know what, I already had the running down, so once I got the juggling down, it was, I'm not going to say a piece of cake, but I eventually got it."
Soon, she was competing, eventually joggling a half-marathon.
"I got cheered for the entire way," she remembered fondly. "It was just fantastic! I could've run faster, but I was just having so much fun. Like talking with the crowd, yelling, yeah!"
But, in the quiet moments, pain sometimes creeps up on the Emory School of Public Health student. At 17, she  was diagnosed with Rheumatoid Arthritis. It's a chronic inflammatory disorder that affects the lining of the joints, causing swelling and pain, especially in her hands and feet.
"I just started waking up in the middle of the night with excruciating pain, and it started migrating throughout my body," she said.
She takes medication, takes care of herself, stays active, but "The pain gets worse at night. Sometimes I can't sleep. Last night, I just really couldn't find a comfortable position to sleep in, so I got like five hours of sleep."
So, joggling has become her thing. A way to push through the pain.
"I definitely to set the bar high for myself," she claimed. "So I was like, 'You know what, maybe I should see if there's a world record for it." Lo and behold, there was."
And she beat that world record, at the time, by 7 minutes, joggling a 5K in 20 minutes and 40 seconds, despite four drops.
"It was pretty awesome considering I had to go back, get the ball, continue juggling."
Dana Gugliemo said joggling makes people happy, which makes her happy.
"I want to show people they can live a really amazing life despite having rheumatoid arthritis."