Elephant living in closed Puerto Rico zoo to get new life at Georgia sanctuary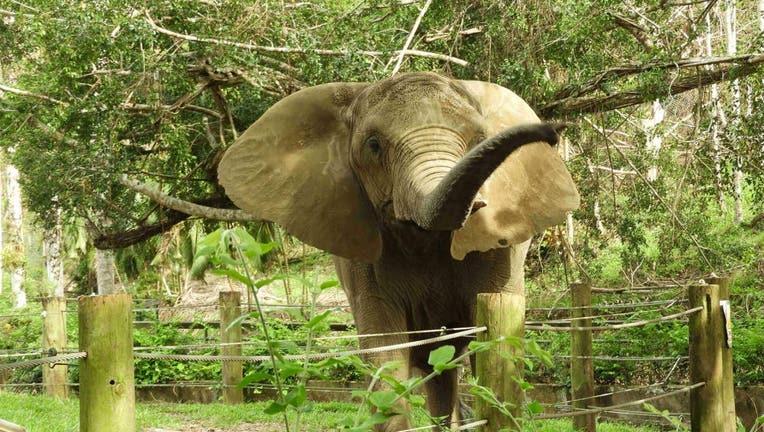 article
ATTAPULGUS, Ga. - A 41-year-old African elephant who had lived alone at a Puerto Rican zoo could get a new lease on life in Georgia.
Nonprofit Elephant Aid International says they were recently asked to rescue Mundi the elephant, who has been living in the defunct Dr. Juan A. Rivero Zoo in Mayaguez, Puerto Rico. According to NBC News, the zoo had been closed to the public since hurricanes Irma and Maria in 2017 and was forced to shut down in February after accusations of negligence and the death of animals.
"For nearly 35 years, she has lived alone in a small yard with access to an enclosed shelter where she is chained at night," the nonprofit said in a statement.
Now the organization, which is located in Attapulgus, Georgia, wants to help Mundi live her best and most fulfilling life for the rest of her days.
Elephant Aid International is raising money to help transport Mundi to their sanctuary, where she can remain outdoors and live as naturally as possible.
"Mundi will fly on a dedicated 747 flight. If everything goes as planned, she will arrive at the Refuge the first week of May," the organization said. "Mundi's future will be spent living free at ERNA, experiencing independence for the first time ever. She will immerse herself in nature and develop deep friendships that will help her discover her authentic elephant self."
The nonprofit's Georgia refuge spans 850 acres of hills, forests, lakes, and creeks. It is not open to the public, though elephant lovers can watch on the organization's "EleCam" on Youtube. 
Currently, two elephants live in the refuge. Bo and Tarra are both Asian elephants who were rescued after years of performing in circuses.
The organization is hosting a fundraiser to help pay for Mundi's trip to Georgia here.