Draketown 'drug house' raided, shut down in Haralson County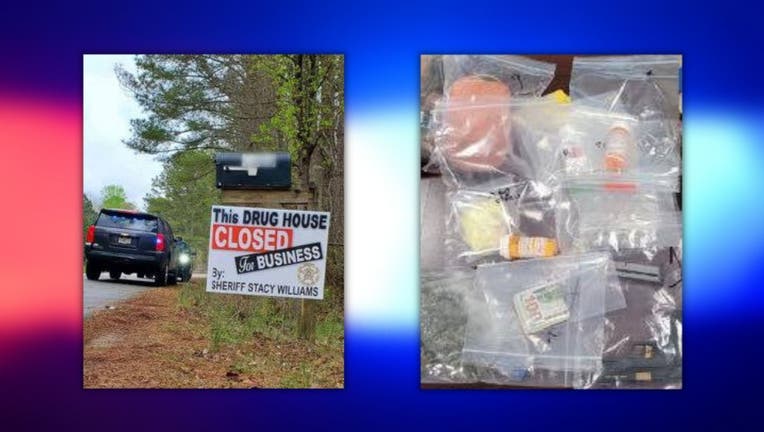 article
HARALSON COUNTY, Ga. - A "drug house" was shut down after a task force combing Haralson and Paulding County officials made a major trafficking arrest last Friday.
The Haralson County Sheriff's Office said this arrest took months of investigating. With a search warrant, officials were finally able to make contact at the residence in Draketown this March.
James "Jim" Todd Fincham, 57, of Draketown was found to be in possession of six ounces of methamphetamine, 14 grams of psilocybin mushrooms, 70 individually packaged bags with a powder substance containing fentanyl, approximately 4 ounces of marijuana, approximately 1/2-gram of cocaine as well as other Schedule 3 and Schedule 4 drugs. During the search, a firearm was also located.
Fincham was arrested and charged with Violation of the Georgia Controlled Substance Act (VGCSA) trafficking methamphetamine, VGCSA possession with intent to distribute fentanyl, VGCSA possession of a schedule 3 drug, VGCSA possession of a schedule 4 drug, VGCSA felony possession of marijuana, VGCSA possession of cocaine, VGCSA possession of a schedule 1 drug, possession of a firearm during the commission of a crime and possession of firearm by a convicted felon.
"This was basically a convenience store for drugs being operated in Draketown and now, this is another drug house closed," said Sheriff Stacy Williams. "I appreciate the effort put into this case by the Haralson-Paulding DTF and the assistance that was given during the search warrant. We will continue this fight to find and arrest drug dealers bringing this poison into our communities."
To submit a tip against a suspect drug deal or activity, residents can call the Haralson-Paulding Drug Task Force at 770-646-9175, or you can submit them anonymously on the Haralson County Sheriff's Office website.