Doritos in ice cream isn't as gross as it sounds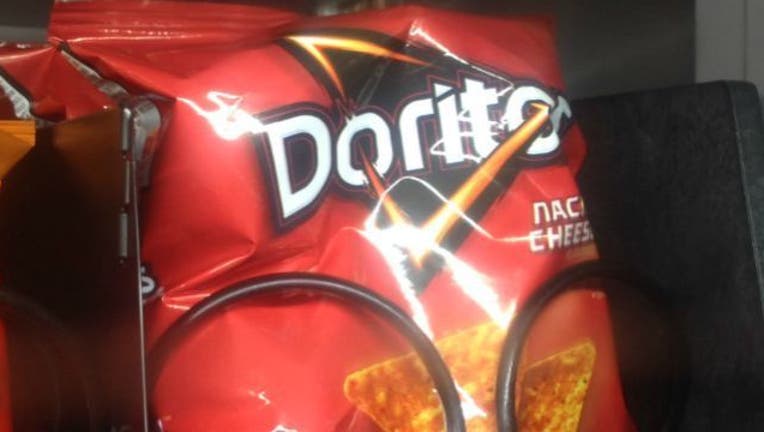 article
With high-brow ingredients like blue cheese, aged balsamic and even foie gras, ice cream flavors keep getting wackier.
But are these new mashups just a ploy to generate a cool buzz or do they actually taste good?
It's really a little bit of both.
Coolhaus jumped on the scene in 2008 with their customizable ice cream cookie sandwiches available at food trucks in select markets. With flavors like Brown Butter Candied Bacon, Avocado Sea Salt, and Beer & Pretzels, the California-based company has been on trend with other creameries like Humphry Slocombe and Salt & Straw that have been defining the frozen treat for a generation of adventurous foodies.
"We always want to be on the pulse of what's in," co-founder Natasha Case told Chew on This, citing the early inclusion of bacon in their flavor arsenal. "But we really think more about what could be next. What are people into and what direction is this going?"
Case says it usually takes about a month to take an ice cream concept from just an idea to production but she's open to inspiration from anywhere-- and that's what happened with a recent creation from their summer line.
"Next to our Culver City shop there's a liquor store where we sometimes go for emergency snacks," Case says. "One of our workers bought some Doritos, added it to a basic ice cream base and [she] was like "You have to try this!" When you have a really great team, coming up with awesome, quirky ideas happens all the time."
After tweaking the original recipe—Case decided to create a white cheddar infusion for the base—"Netflix" was born. The idea of adding crushed-up nacho Doritos into ice cream may sound like the half-baked idea from a marijuana dispensary regular, but the combination is shockingly delicious.
"It tastes exactly like what I wanted it to taste like," said Lawrence Weibman, creator and producer of NYCFoodGuy.com. "Doritos may be the best chip every invented so I think this proves yet again…that you can't do anything wrong with Doritos!"
The salty nacho chip bites manage to stay relatively crunchy in the creamy base-- without losing their signature cheesy flavor. It's a salty-sweet combination that rivals the classic maple bacon. The white cheddar base was not readily apparent but that didn't bother our tasters who continued to eat spoonful after spoonful of Netflix.
Also on trend is the Fried Chicken & Waffles flavor—a brown butter ice cream base with maple candied chicken skin and waffle bits. Though delicious as a sweet ice cream, our Chew tasters missed the "chicken" part.
"I feel like this is basically vanilla with some maple sugar rather than chicken."
Coolhaus even unveiled a "Fast Food" flavor with crushed malt chocolate pieces and real shoestring french fries, a combination Case likes to think of as the "entire diner experience with everything but the hamburger." And while the idea of adding junk food to ice cream may seem gimmicky, the co-founder reiterates that Coolhaus isn't just going for shock value. 
"All of our flavors are gourmet. We're not trying to be junk food, we just want to elevate the popular flavor profile that these companies and fast food restaurants have created into a totally different experience."
This fall, the team will continue to experiment with savory meal flavors with the release of a line of Jewish deli-inspired ice creams.
Coolhaus trucks are in Los Angeles, Dallas and New York City but pints are available nationwide in major grocers such as Krogers, Safeway and Balducci's.