Hall County sheriff responds to man filing lawsuit over alleged assault, releases unedited video
HALL COUNTY, Ga. - Attorneys filed a lawsuit against Hall County and the county's sheriff's department over the alleged assault of a Georgia man by deputies while he was in custody two years ago. 
On Sept. 18, 2021, 41-year-old Dewon Greer was pulled over and arrested by the Georgia State Patrol after a minor traffic infraction.
Greer's attorneys claim authorities incorrectly found Greer to be behind in child support payments, which led them to issue a warrant for his arrest.
While Greer disputed the child support claims, officers took Greer to the Hall County Detention Center to be booked and processed. It was there that Greer and his lawyers allege the deputies assaulted him while he was in handcuffs.
"Amid the assault, deputies forced him to the ground, causing his head to slam against a concrete wall," Attorneys LaRhonda Nicks, B'Ivory LaMarr and S. Todd Yeary said in a statement announcing the lawsuit.
His attorneys released body camera video of the incident. In one of the clips, Greer could be heard telling deputies, "I'm facing the wall with my hands behind my back."
"It was horrible, I didn't know if I would make it out because I know all the stories and everything you see on TV," Greer told FOX 5 Tuesday.
That is when he says things went from bad to worse when he was told to get on his knees. According to the video, it appears Greer's leg was grabbed by a deputy, and he falls forward striking the wall.
"He's bleeding, he's bleeding," one person could be heard saying in the video.
"There's really no escalation, I comply," he said. "I was upset and angry just because I had the paperwork to prove it and all they had to do was take a look at it."
Greer says not only did he hit his head, but he was knocked out.
"You knocked his (expletive) out," someone could be heard in another clip.
Greer says he wants to see better education to keep people safe when they are in custody. His attorneys say they hope this lawsuit sparks change.  
"Obviously, the client is deserving of compensation, but it's also important to serve as a deterrent," said B'Ivory LaMarr, an attorney on the case.
"There is no amount of money that can unwring this bell about what was done to him that night," said S. Todd Yeary, another attorney on the case.
A photo taken of Greer after he was released from jail showed the father of four with swelling and bruises around both of his eyes.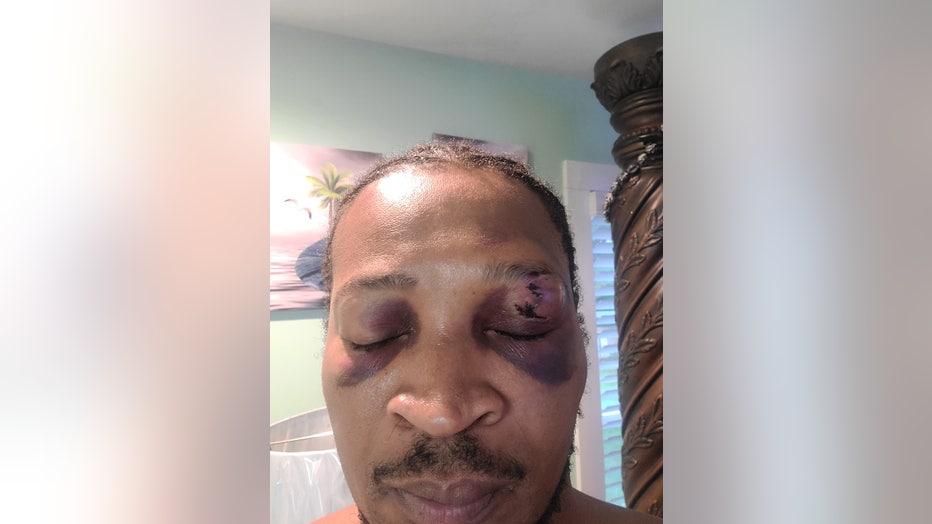 Dewon Greer (Courtesy of Dewon Greers attorneys)
Two years after the incident, Greer says he is still dealing with lingering issues that left him with a concussion and PTSD. He says he also had to get dental implants after the encounter that he believes was intentional. Greer says he still suffers from pain, dizziness, headaches, and blurred vision because of the injuries. According to his lawyers, he has paid more than $28,000 in medical bills.
He and his attorneys announced the details of the lawsuit on Tuesday morning at the Russell Federal Building in Atlanta.
"I was being compliant, so I believe that was their way of trying to send a message," he said.
Although the Hall County Sheriff's Office initially said they cannot comment on pending litigation, they posted a statement and unedited video on their Facebook page on Wednesday afternoon. 
The statement starts out by asking the community to keep in mind that there is another side to what the attorneys of Dewon Greer are alleging.
It also describes Greer as being "extremely belligerent" when being arrested and said that he failed to follow lawful commands when he was being booked into the jail. The sheriff claims Greer was refusing to get on his knees so his handcuffs could be removed, and the jailers were trying to place Greer in a prone position when he fell forward.
The statement also says that Greer made racial insults towards the arresting trooper and told the jailers repeatedly that he hoped they would die and their families would die. 
Click here to read the full statement and watch the unedited video, which contains language that may be considered profane, vulgar and offensive. 
Greer's lawyers countered the sheriff's response in a statement reading:
"Sheriff Couch acknowledges that Mr. Greer sustained an injury, an undeniable fact that has been well-documented through video evidence; but to attribute the actions of the officers solely to their emotional state, rather than their conduct and training, raises questions about accountability and transparency.
"This incident was not a simple fall but a deliberate act in response to what Mr. Greer said, not any actions he had taken. This is evidenced when Officer Katelyn Rounds says 'Good, you knocked his ass out.'
"Sheriff Couch seems to encourage the public to disregard the video evidence and trust only what he and the agency assert. We firmly believe that transparency and accountability are fundamental principles of our justice system, and that is why we have filed a lawsuit on behalf of Mr. Greer. We seek to ensure that those responsible for causing his injuries are held accountable."