2 killed in shooting at Clayton County mobile home park
JONESBORO, GA - Two people are dead and two others were hospitalized after a shooting at a Clayton County mobile home park late Sunday evening.
The deadly shots were fired along Museum Circle in the Tara Mobile Home Park, which is off of Tara Boulevard. Residents told FOX 5 News gunshots are not an uncommon thing to be heard, but Sunday night's shots were different.
"That sounded like a hit. Sounded like somebody was on a mission," a neighbor who did not want her name revealed.
Police arrived at the scene to find one of the victims had died in the grassy area in front of one of the homes.
Medics rushed three more victims to a nearby hospital. That's where the second victim died. The other two suffered from non-life-threatening injuries.
Officials have identified the two dead victims as 34-year-old Carlos Rebolledo and 34-year-old Everardo Esparza.
Sign up for FOX 5 email alerts
Rebelledo, was a father of seven. One of his children, Natalia Rebolledo spoke about her father fighting back tears.
"It was just sad how he was thrown on the floor like he was an animal. My dad, he was a good guy. He was a good husband too. He cared about us," Rebolledo lamented.
When FOX 5 News arrived at the scene, there were evidence markers littering the scene and a rifle was taken into evidence.
Across from the initial scene was a silver car that struck another house. That car along with a white Mercedes were towed from the scene to the police impound lot. It was not yet clear how either played into the deadly shooting.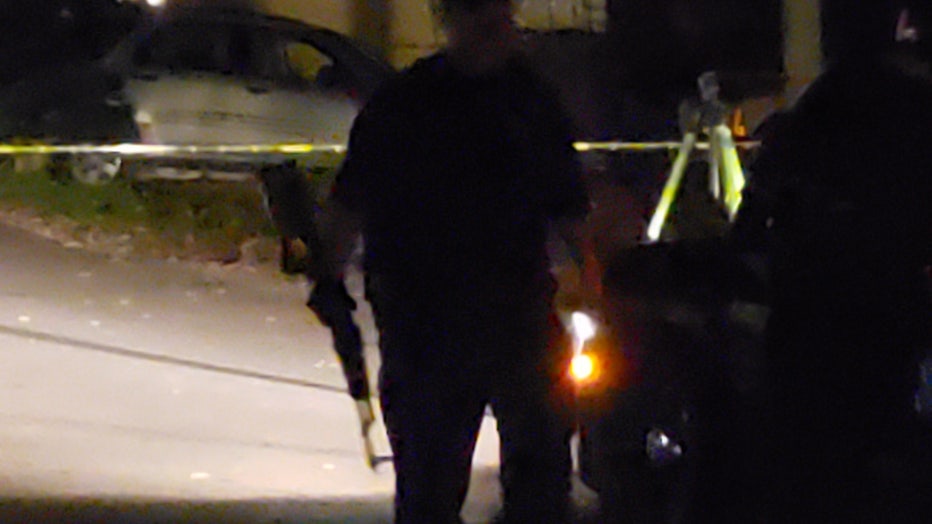 Police remove a rifle from the crime scene
Angel Vowell said one of the men fleeing the scene hit her trailer and caused major damage. She said she was just one inch away from being a fifth victim.
"If it weren't for the metal frame, because of the impact, I probably would have been dead. They had a gun laying on the ground. A gun laying under the van. People running and hollering. It was like a massacre that happened here last night," Vowell revealed.
WATCH: FOX 5 Atlanta live news coverage
Police said they don't yet have a motive for the shooting or have a suspect description.
Detectives spent the day canvassing the neighborhood looking for witnesses and other possible evidence.
Any with information that could help with the investigation, please call Clayton County Police.
Download the FOX 5 Atlanta app for breaking news and weather alerts.