Company that HHS pick invested in faced criminal penalty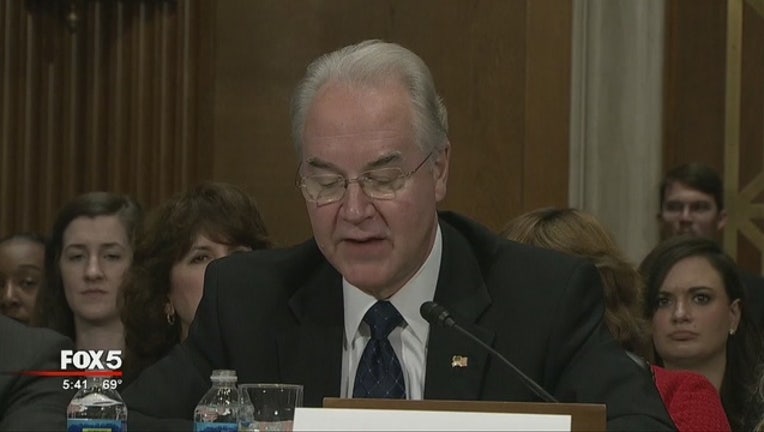 article
WASHINGTON (AP) - A medical device company in which Rep. Tom Price purchased stock last year has faced years of legal problems and agreed this month to a $17 million Justice Department criminal penalty in a foreign bribery case.
Democrats this week challenged the Georgia Republican, who is President-elect Donald Trump's pick for health secretary, on his investments and potential conflict of interest.
Among the companies at the center of the controversy is Zimmer Biomet, a major manufacturer of orthopedic and dental implant devices.
The Indiana-based company agreed to pay $17.4 million to resolve allegations that it had schemed to bribe Mexican government officials through a third-party distributor in Brazil. Federal prosecutors said the misconduct occurred even though the company in 2012 had reached a deferred prosecution agreement with the Justice Department arising from separate foreign bribery allegations. The payments were intended to allow a Mexican subsidiary of the company to import contraband dental implants into Mexico, prosecutors said.
As part of an agreement with the Justice Department, the company was charged with failing to implement accounting controls and agreed to have a monitor for three years.
Trump transition spokesman Phillip Blando said Thursday that "any effort to link Dr. Price's investment portfolio to a company's legal troubles is nonsensical, absurd, and insulting."
Price's acquisition of Zimmer Biomet stock, which became a contentious issue in a Senate confirmation hearing this week, came around the same time Price introduced legislation to suspend Medicare rules seen as problematic for such companies.
Blando said Price had been working on the legislation for months, that the stock purchase was made as part of a broader rebalancing of his portfolio and that the purchase was made by his stockbroker, though Price at his hearing did say that he had directed his broker to purchase shares in another company, Innate Immunotherapeutics.
At his hearing, Price sparred with Sen. Elizabeth Warren, a Massachusetts Democrat, over his involvement in the Zimmer Biomet purchase. Price at one point noted that the stocks were brought by a broker and that he was not making the decisions, but he acknowledged that the transactions were made on his behalf.
"Let's just be clear: This is not just a stockbroker, someone you pay to handle the paperwork," Warren said. "This is someone who buys stock at your direction, this is someone who buys and sells the stock you want them to buy and sell?"
"Not true. That's not true, Senator," Price said.
"Because you decide not to tell them - wink, wink, nod, nod - and we're all just supposed to believe that," Warren said.
___
Follow Eric Tucker on Twitter://www.twitter.com/etuckerAP
___
This story has been corrected to show that the medical device company agreed this month, not in December, to a $17 million Justice Department criminal penalty in a foreign bribery case.