Water restored after main break creates sinkhole impacting 170 homes in Cobb County
COBB COUNTY, Ga. - Water service has been restored to more than 100 homes and two schools in Cobb County after a main break Wednesday morning.
Kennesaw police reported that the water main break, located on Ben King Road, caused a large sinkhole in the area.
"I didn't even know it happened until I was on my way to work saw the road closed." said motorist Cody Rankins.
Ben King Road and Carrie Farm Road were closed in order to complete repairs, which did impact traffic.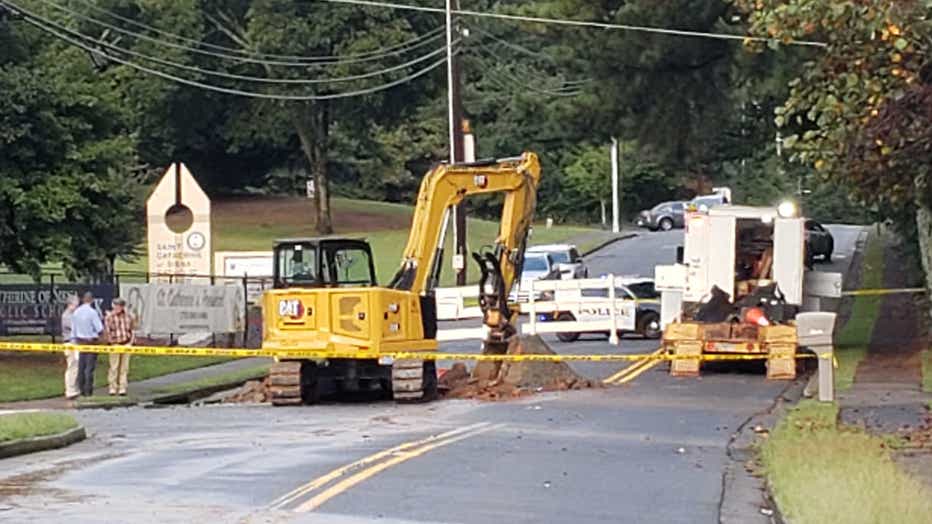 The break impacted 170 homes in the area, along with Big Shanty Elementary and St. Catherine of Siena Catholic School.
"It's just part of everything going on with the rain, you've got soil compaction, and we had a joint that broke on the waterline and so, we are making those necessary repairs right now," said Kennesaw City Manager Jeff Drobney earlier in the day.
The water issue meant an unscheduled field trip for the students at Big Shanty Elementary School.
"It was crazy. 'Cause first thing when I got there, I was like 'Do you know what happened outside?'" said student Trevor Jones.
Students at Big Shanty were shuttled over to North Cobb High School for the day. In a statement, the Cobb County School District wrote:
"Early this morning, there was a water main break outside of Big Shanty Elementary. The Cobb County Water Department is working to correct the problem. Due to the disruption, students will be relocated to North Cobb High School for the remainder of the school day."
"When I came here the road was still closed so I still had to walk and pick him up but everything seems fine." parent Tina Jones said,
As for Trevor, spending the day at North Cobb was a fun adventure.
Mom: "Tell them the lunch was better."
Trevor: "Yes, the lunch was better there were so many options."
Meanwhile, students at St. Catherine were sent home for the day.
WATCH: FOX 5 NEWS LIVE COVERAGE
_____
GET BREAKING NEWS EMAIL ALERTS FROM FOX 5
DOWNLOAD THE FOX 5 ATLANTA APP FOR BREAKING NEWS AND WEATHER ALERTS