Tribunal recommends Cobb County teacher on leave over children's book keep job
COBB COUNTY, Ga. - The tribunal overseeing the termination hearing for a Cobb County teacher who has been on leave for more than a month over her choice of a children's book has rejected the county superintendent's recommendation to fire her.
Last week, Due West Elementary fifth-grade teacher Katie Rinderle sat before the three-person tribunal for two days to see if they suggested she be fired for reading the book "My Shadow Is Purple" to her class.
"When I saw the book, at the book fair, I read it. I thought it was a wonderful book," Rinderle said with tears in her eyes during her testimony.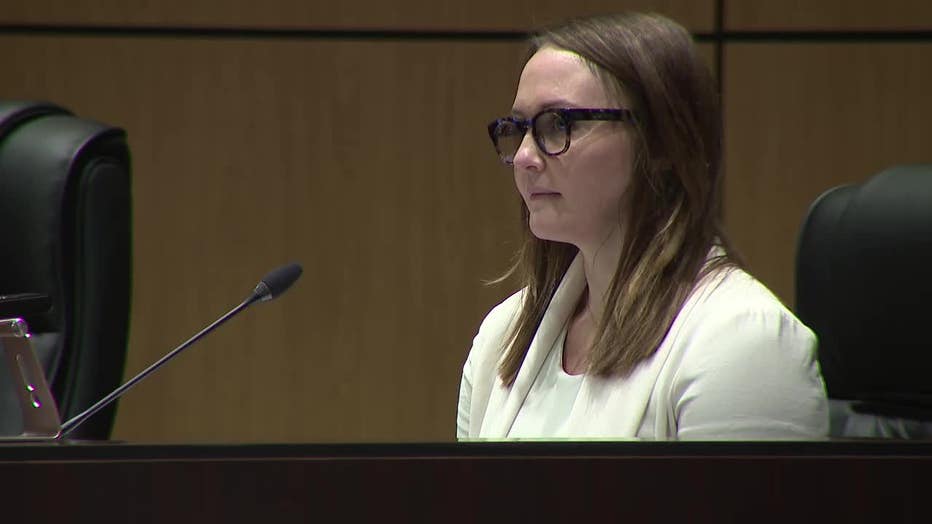 She said out of several options, her students chose to read it back in March. The book, which features a nonbinary character, centers on challenging gender norms.
The Cobb County School District says Rinderle chose poor judgment when she chose that book. The district says when she read it in the classroom she violated Georgia's new Divisive Concepts Law, which limits what teachers can talk about in class. 
"We are concerned she chose to put a book about gender identity in a class of 10- and 11-year-olds," said Gretchen Walton who was representing the school district. 
The district says she should have sought parental permission before reading it and should have discussed it with her principal. 
"This is not part of the curriculum, it's not part of what we teach in fifth grade," said Due West Elementary Principal Cissi Kale.
The Cobb County superintendent recommended that Rinderle be terminated, however, the tribunal decided that she violated just two of the three policies the district alleged she broke.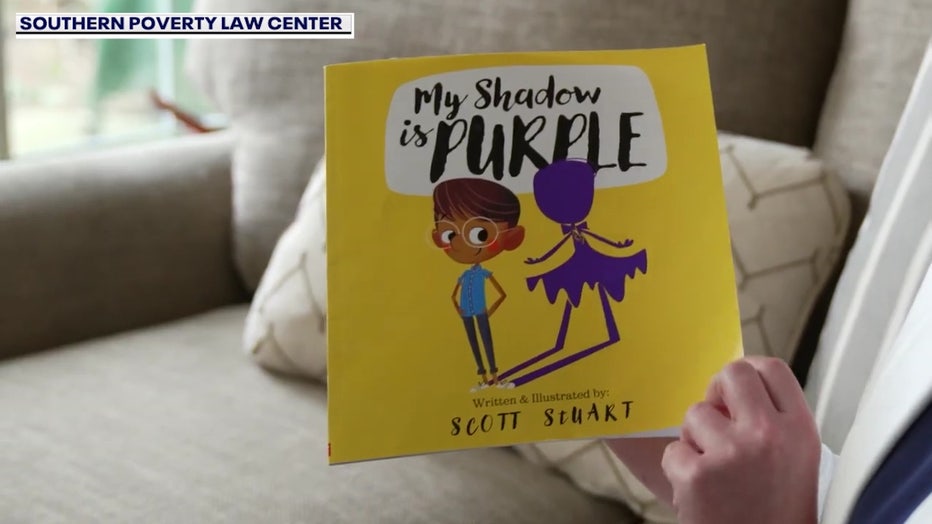 Katie Rinderle shows a copy of "My Shadow is Purple" (Credit: Southern Poverty Law Center)
"I appreciate the tribunal's consideration of my case and decision not to terminate me," Rinderle said in a statement. "However, I disagree that I've violated any policy and that finding remains unjust and punitive. The district has never provided adequate guidance on how I am supposed to know what is and what is not allowed in the classroom based on these vague policies. Prioritizing behaviors and attitudes rooted in bigotry and discrimination does not benefit students and undermines the quality of education and the duty of educators."
While the tribunal recommended that Rinderle not be terminated for the charges, that does not mean that she will remain as a teacher in the Cobb County School System.
The Cobb County School Board can accept or change the tribunal's recommendation.
FOX 5 reached out to the school district for comment. A spokesperson released the following statement:
"The District appreciates the work of the Tribunal Members and the Hearing Officer. The Board will review the Tribunal's recommendation and looks forward to returning our entire focus on educating all of our talented students."
The board plans to vote on it at their next meeting on Aug. 17.
The case has drawn wide attention as a test of what public school teachers can teach in class, how much a school system can control teachers and whether parents can veto instruction they dislike. It comes amid a nationwide conservative backlash to books and teaching about LGBTQ+ subjects in school.
Cobb County adopted a rule barring teaching on controversial issues in 2022, after Georgia lawmakers earlier that year enacted laws barring the teaching of "divisive concepts" and creating a parents' bill of rights. The divisive concepts law, although it addresses teaching on race, bars teachers from "espousing personal political beliefs." The bill of rights guarantees that parents have "the right to direct the upbringing and the moral or religious training of his or her minor child."
The Associated Press contributed to this report