Police: Suspect driving erratically killed in shooting involving Cobb officer
COBB COUNTY, Ga. - The Cobb County Police Department said a suspect was shot dead during an officer-involved shooting. 
A Cobb County police officer attempted a traffic stop on a car that was driving erratically, police said. The driver, identified as 28-year-old Austell resident Devonte Dawayne Brown, sped away and struck patrol cars from multiple law enforcement agencies and possibly some bystanders' cars.
A Cobb County police officer disabled the car. While trying to take him into custody, one Cobb County officer shot their weapon as they approached the vehicle, officials said. The Georgia Bureau of Investigation is working to determine what led up to the officer discharging their weapon. 
"The suspect was transported but did not survive," Sgt. Wayne Delk with the Cobb County Police Department said.
Delk said additional information regarding what prompted the officer to fire their gun will come from the GBI. That officer remains unidentified. 
No civilians were injured but one officer had non-life-threatening injuries after being struck by Brown's vehicle. 
Police closed a section of Powder Springs Road between Garrison Road and Sandtown Road on Wednesday afternoon while investigating.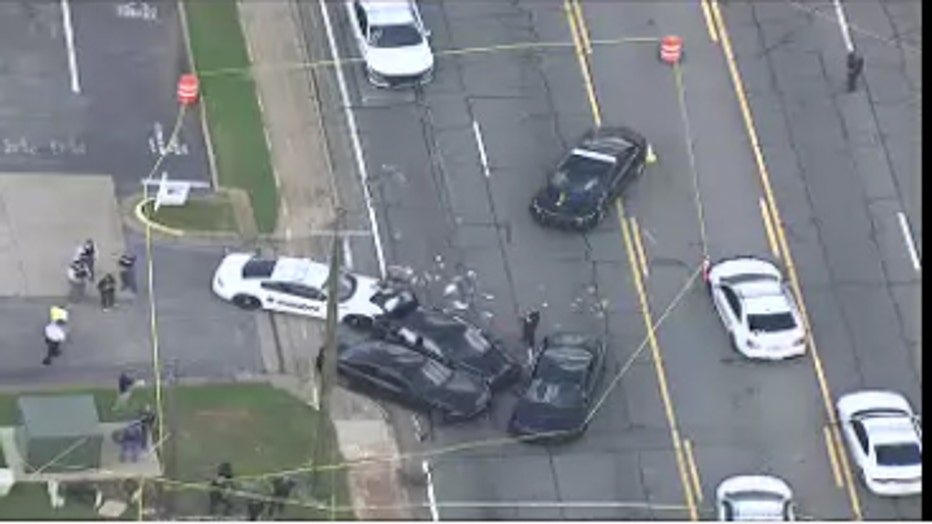 Heavy police activity was seen along Powder Springs Street at Sandtown Road on Wednesday in Cobb County. (FOX 5 Atlanta)
SKY FOX 5 captured police focusing on a white patrol car with front-end damage. 
The cars were in front of an auto-repair business. Some law enforcement were also gathered outside of a restaurant next door.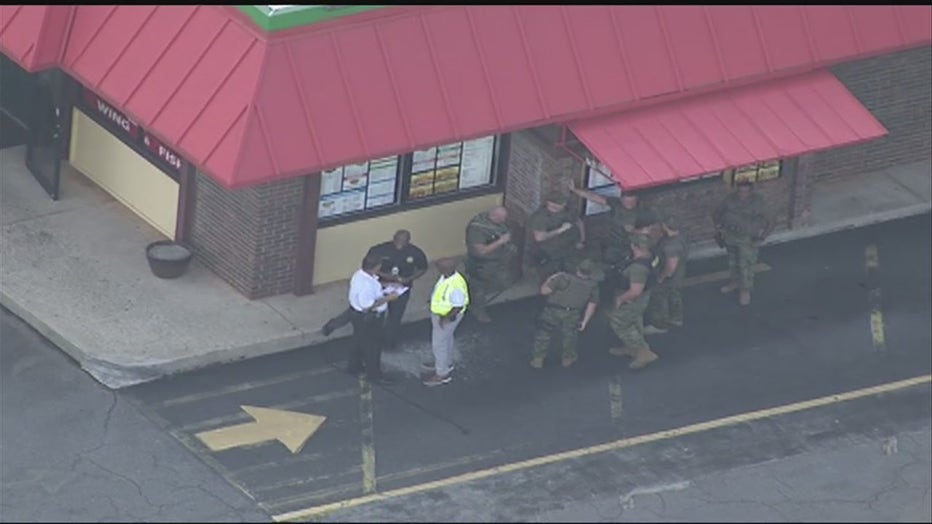 Law enforcement gathered outside Wing & Fish in Cobb County near the site of an officer-involved shooting. (FOX 5 Atlanta)
Police could not provide a timeline of when the road will re-open. The GBI is currently investigating.
Law enforcement personnel from multiple agencies were on-scene. 
The investigation had to divert Marietta City Schools buses, officials said. 
Cobb County Police Chief Tim Cox released the following statement Wednesday evening about the incident:
"I am very relieved to share with you there were no other injuries in this dangerous situation Cobb County Police Officers and Cobb County Sheriff's Deputies were involved in this afternoon. We've received numerous questions and can confirm that a handgun was recovered. As in most incidents of this magnitude, many times the information comes in a preliminary fashion and is updated as more details become available. It was initially reported this incident evolved from a stolen vehicle traffic stop. We have now confirmed that this incident began with an officer observing the vehicle driving erratically and posing a threat to motoring and pedestrian traffic in the area. We are thankful no motorists or pedestrians were injured. And we will continue to provide all of our personnel and other needed resources to the GBI in the furtherance of their independent investigation."
The results of the GBI investigation will be handed over to the Cobb County District Attorney's Office for review once it is completed.
This story has been updated to reflect new information provided by police that the car was not stolen, but rather driving erratically
WATCH: FOX 5 Atlanta live news coverage
_____
Sign up for FOX 5 email alerts
Download the FOX 5 Atlanta app for breaking news and weather alerts.