Cobb County K-9 officer dies of cancer, memorial scheduled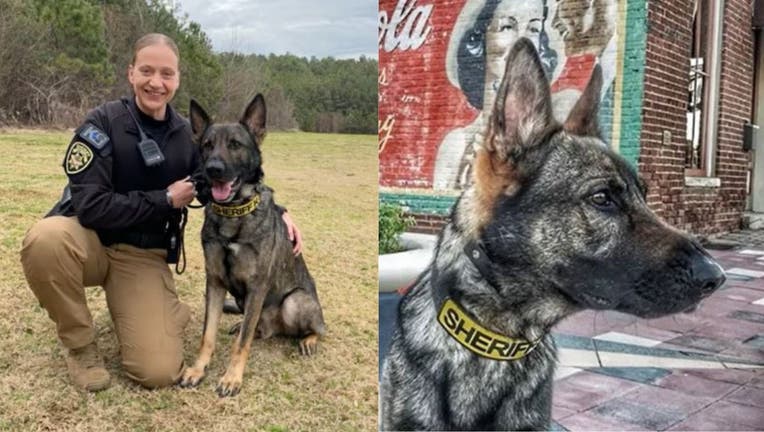 article
COBB COUNTY - The first German Shepherd police K-9 for Cobb County Sheriff's Office has died at the age of 7.
A memorial service will be held for K-9 Athos at 2 p.m. Aug. 15 at the Cobb Senior Services Building in Marietta.
According to the sheriff's office, Athos joined CCSO in December 2017. He was trained to track lost or missing persons and to conduct article searches. Initially, he was assigned to Deputy Maldonado and was later reassigned to Deputy Lucas-Dykstra in 2022.
During his career, Athos located several people and articles of evidence. Some of his more notable tracks included locating a missing 10-year-old autistic boy who ran away from home. The duo received the call at the end of their shift and Athos was able to find the boy hiding in the bushes in ten minutes. On another callout, K-9 Athos located a 15-year-old boy, who had made threats of suicide, in the woods near his high school just by smelling his bicycle seat. The boy was unharmed and was able to receive further medical treatment.
For the past three years, K-9 Athos and Deputy Lucas-Dykstra have worked as partners. A K-9 and their handler have a very special relationship, a 24-hour partnership. These K-9s live with their handlers and they grow to be part of the family.
"We built our bond on trust and a deep emotional connection. Athos was more than my partner, he was my best friend and my family. He was the nose and eyes that I didn't have. He had an incredible sense of smell that was used several times to help find people," said Deputy Lucas-Dykstra.
Athos was scheduled to be medically retired later this year, but succumbed to complications from cancer. The sheriff's office says he touched many people's lives through his work and attendance at community events.