Clayton County special election: sheriff, House seat, SPLOT on ballot
CLAYTON COUNTY, Ga. - Clayton County residents will be headed to the polls Tuesday to decide who the county's next sheriff will be, who will fill an empty Georgia House seat, and whether to raise a special tax.
Polls open from 7 a.m. to 7 p.m. on Tuesday.
The special election will be held for the Clayton County Sheriff's Office after it was made vacant with the conviction and sentencing of Victor Hill. Hill was suspended in April 2021 by Gov. Brian Kemp shortly after his indictment.
A sketch of Clayton County Sheriff Victor Hill in federal court. (Provided by Lauren Lacy)
In Oct. 2022, a federal jury in Atlanta convicted Hill on six of seven counts of violating the constitutional rights of detainees inside the Clayton County Jail from Dec. 2019 to May 2020 by ordering them to be held in restraint chairs for hours shortly after their arrests.
Last week, Hill was sentenced to 18 months in federal prison.
By law, Chief Deputy Roland Boehrer became sheriff, but he quickly retired, opening the door for LaVon Allen to become interim sheriff.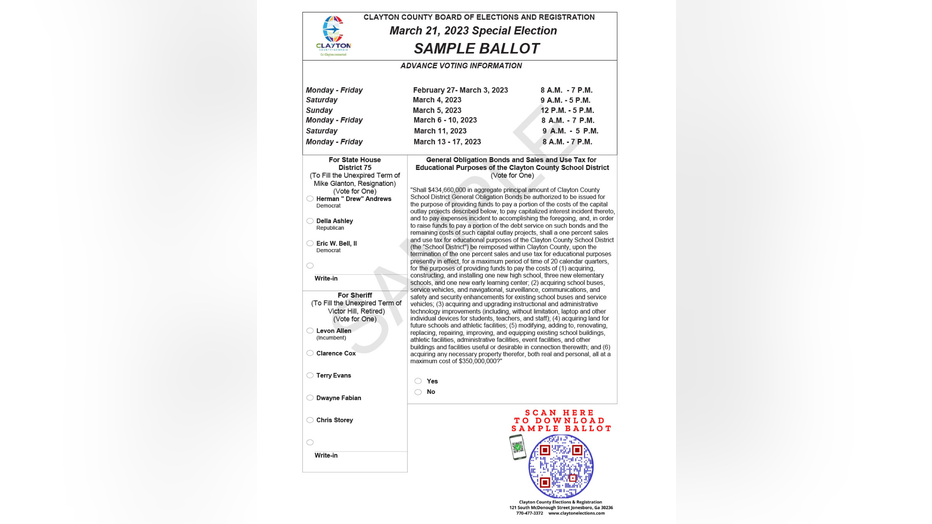 Who is running for Clayton County Sheriff?
Levon Allen
Levon Allen is one of five candidates vying to become the next elected sheriff in Clayton County.
The FOX 5 I-Team reported on Allen's meteoric rise in the department going from deputy sheriff to the number two man in the department, chief deputy, in five years. The jump included a $100,000 salary increase.
The I-Team also reported on Allen spending nearly $50,000 in taxpayer's money to put his name, and sometimes image, on billboards, cars, and theater screens as he campaigned to remain sheriff. It has roused several critics.
Allen, who is Hill's godson, was not there on Jan. 31, when FOX 5 attended a candidate forum for Clayton County Sheriff.
Clarence Cox, Terry Evans, Dwayne Fabian, and Chris Storey were asked a wide array of questions, including the safety of staff and inmates. They also discussed crime, conditions in the jail and mental health.
Clarence Cox
Clarence Cox stepped into the race with 38-years of law enforcement experience. He was previously the chief investigator with the Fulton County Solicitor General's Office, a past National President of the National Organization of the Black Law Enforcement Executives, and the leader of Convoy of Care.
Cox was the third Black deputy hired by Clayton County in 1982 and one of the original members of the Georgia Homeland Security Task Force, currently known as the Georgia Information Sharing and Analysis Center.
Terry Evans
Terry Evans is a Marine Corps veteran who began his law enforcement career at with the Georgia Department of Corrections as a correctional officer, and ended up a watch commander. He has since acquired two decades of experience serving as a commander for multiple units including field, special operations, gang, burglary, and professional standards.
Evans also spent time as a fugitive investigator, tracking down several of the county's most wanted. He has also worked on multiple interagency task forces.
Dwayne Fabian
Dwayne Fabian stepped into the race with 31-years of experience in law enforcement. He started as a sworn officer in the Savannah Police Department and eventually made detective, working the auto theft division.
Fabian then became a Georgia State Patrol trooper working his way up to senior trooper, assistant post commander, and eventually acting post commander.
Chris Storey
Chris Storey has more than two decades of law enforcement experience under his belt. He was promoted to major in 2019, making him the first Black man or woman to hold every rank from correction officer to major in the Clayton County Sheriff's Office.
Storey is also heavily involved in the National Sheriff's Association, National Stalking Resource Center, and the Federal Law Enforcement Center.
Whoever wins Tuesday's election will serve the remainder of the current term, which expires at the end of 2024.
Who is running for Georgia House District 75's special election?
A special election will also be held Tuesday in Clayton County to determine who will be filling the remainder of state Rep. Mike Glanton's term.
Rep. Glanton, a Democrat, resigned earlier this year, leaving a vacancy. The Democrat had held the seat for the last 14 years and was reelected in November 2022.
Three candidates are currently vying for the position:
Herman Andrews
Herman "Drew" Andrews is a 21-year Army veteran who has been working hard the past few years as a community advocate.
The Democrat says he is against voter suppression, wage stagnation, poor healthcare, and discrimination in any form and will work for economic opportunities, especially with small businesses.
Della Ashley
Della Ashley, a Republican, is a nearly three-decade resident of the area. She has served in the Public Health Service Commissioned Corps for seven years.
Ashley calls for more services for youth and women. She also advocates for special needs education, mental health as well as the growth of shelters for homeless and abused individual.
Eric W. Bell, III
Eric W. Bell, III, is a Navy veteran. He worked in the office of Sen. Lester Jackson in the 2017 Georgia Legislative Session. Currently, he is the Government Affairs Coordinator at Hartsfield-Jackson Atlanta International Airport.
Bell also participates in the Clayton, South Fulton, Atlanta, and Airport Chambers of Commerce, the Regional Leadership Institute sponsored by the Atlanta Regional Commission, and the New Leaders Council.
What else is on the Clayton County special election ballot?
Clayton County residents also have one question on the ballot regarding a Special Purpose Local Option Sales Tax (SPLOST). It is the "General Obligation Bonds and Sales and Use Tax for Educational Purposes of the Clayton County School District."
It reads:
"Shall $434,660,000 in aggregate principal amount of Clayton County School District General Obligation Bonds be authorized to be issued for the purpose of providing funds to pay a portion of the costs of the capital outlay projects described below, to pay capitalized interest incident thereto, and to pay expenses incident to accomplishing the foregoing, and, in order to raise funds to pay a portion of the debt service on such bonds and the remaining costs of such capital outlay projects, shall a one percent sales and use tax for educational purposes of the Clayton County School District (the "School District") be reimposed within Clayton County, upon the termination of the one percent sales and use tax for educational purposes presently in effect, for a maximum period of time of 20 calendar quarters, for the purposes of providing funds to pay the costs of (1) acquiring, constructing, and installing one new high school, three new elementary schools and one new early learning center, (2) acquiring school buses, service vehicles, and navigational, surveillance, communications, and safety and security enhancements for existing school buses and service vehicles, (3) acquiring and upgrading instructional and administrative technology improvements (including, without limitation, laptop and other individual devices for students, teachers, and staff), (4) acquiring land for future schools and athletic facilities, (5) modifying, adding to, renovating, replacing, repairing, improving, and equipping existing school buildings, athletic facilities, administrative facilities, event facilities, and other buildings and facilities useful or desirable in connection therewith, and (6) acquiring any necessary property therefor, both real and personal, all at a maximum cost of $350,000,0009"
Those who vote "Yes" will be approving a special 1-cent sales tax for five years to help pay for schools' infrastructure.
A "No" vote would mean no SPLOST.