Church cops? Congregation eyes its own unusual police force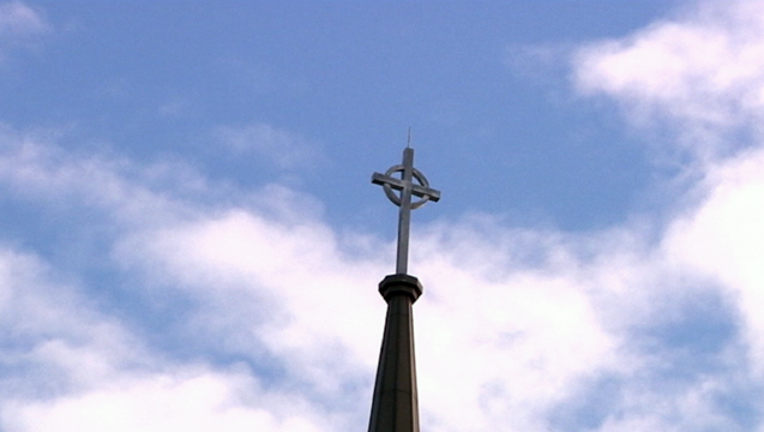 BIRMINGHAM, Ala. (AP) - Briarwood Presbyterian Church already has more than 4,000 members, two private schools and its own radio station. And if administrators have their way, the wealthy congregation could soon add something that no other American church has: its own police force.
With a membership larger than many small towns, Briarwood has asked the state Legislature for permission to set up a private law enforcement department to watch over its flock and schools. The bill comes at a time when places of worship around the country are stepping up security, but a church-only police force raises constitutional questions that are ripe for a legal challenge. And opponents worry crimes could be covered up by the church.
Experts believe a church with its own police department would be unprecedented in the U.S.
"I've never even heard of this," said Heath Grant, an assistant professor at John Jay College of Criminal Justice in New York City. "From the perspective of security, churches usually have relationships with the local police departments. I don't know why that wouldn't be sufficient."
The Birmingham church hires off-duty police officers from nearby jurisdictions to cover its events, but it says there often are not enough officers available to help. Church officials also worry about mass shootings, such as the attacks at Sandy Hook Elementary in Connecticut and the Emanuel African Methodist Episcopal Church in South Carolina.
The bill was introduced by Republican Rep. Arnold Mooney, whose wife and daughter work at Briarwood Christian School. All three of his children graduated from Briarwood schools.
"Officer presence is the No. 1 line of defense," he said in an email.
Twenty-one of Mooney's colleagues in the Republican-controlled House support his bill, which passed the Legislature last year but was not signed into law by Gov. Robert Bentley. The governor did not give a reason for not acting on the proposal in 2016 and has given no indication what he will do this year.
Debate in the House is expected before the session ends in May.
In Alabama, a state where religion permeates nearly every aspect of social and political life, Briarwood's presence looms large. In addition to the huge membership and the radio station, the church's schools have nearly 2,000 students from kindergarten through 12th grade. Their teams, particularly football, soccer and tennis, are known for athletic success. Briarwood also sends missionaries abroad to Asia, Africa and Latin America.
Opponents of the bill worry that forming a church-only police department may lead to crimes being covered up. There are also doubts about the department's potential power, how closely it would work with neighboring police and who it would ultimately answer to.
"It's making the church take the role of the government," said Richard E. Levy, a constitutional law professor at Kansas University. "I would expect that if the law is enacted it would not be very long before it is challenged."
The bill was first proposed after students at Briarwood's high school were arrested in a drug bust in early 2015, which made a splash in Birmingham-area media. While church administrators deny the raid was a catalyst for the bill, critics worry that similar instances could go unreported if the church had its own police.
"A church structure creates a hierarchy of who answers to whom," said Rep. Chris England, a Tuscaloosa Democrat.
The church says the department would mirror those that already exist at many colleges and universities. It would not have a jail or dispatch center and would instead cooperate with surrounding police agencies if someone needs to detained, according to documents church administrator Matt Moore provided.
"The sole purpose of this proposed legislation is to provide a safe environment for the church, its members, students and guests," the church said in a statement.
Church officers would be trained to state policing standards and have all the duties and powers as other law enforcement, but they will be confined to the church's sprawling grounds in the suburb of Vestavia Hills, plus the church's secondary school in nearby Shelby County. The bill would allow Briarwood to hire as many officers as it wants.
Co-sponsor Rep. Allen Treadaway, a Birmingham police captain, said if a wealthy church can attract and retain officers, let it do so.
"They're struggling to have enough security on that campus," said Treadaway, a Republican.
Nationwide, many places of worship have added cameras and security guards, but a church with its own sworn-in police department would be unique, said Carl Chinn, who authored a book titled "Evil Invades Sanctuary: The Case for Security in Faith-Based Organizations."
Chinn compiles instances on violence in religious centers through news reports. Last year, he found 246 violent incidents - a 141 percent increase from 2010. Attackers used firearms in more than half of all 1,457 incidents since he started putting the figures together in 1999. About 3 percent of all the attacks Chinn counted occurred at Presbyterian churches.
At a recent Sunday morning service, some of the faithful said they would welcome the added security, especially since state laws do not forbid people from carrying guns in churches.
"You've got to have some presence here," said Jeff Siren, 61, who has worshipped at Briarwood since 1998. "Anyone can wander in here unchallenged at any time."