Chevrolet adds new Buckle to Drive feature to remind teens to buckle up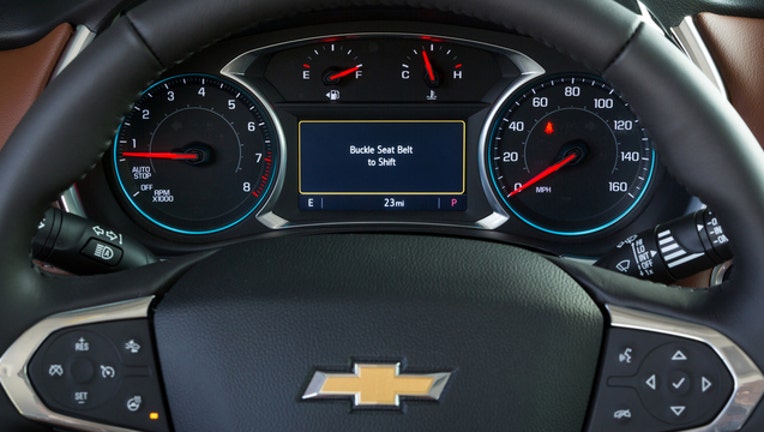 article
(FOX 7 Austin) - Chevrolet has introduced a new feature to help remind young drivers to buckle up before driving.
Buckle to Drive, an industry-first feature, is designed to prevent the driver from shifting the vehicle out of park if the driver's seat belt is not fastened. The feature is only available in Teen Driver mode, building on Chevrolet's Teen Driver system.
If the vehicle is on and the driver's seat belt is not buckled, the feature is designed to not allow the driver to shift out of park for up to 20 seconds and if the brake pedal is pressed, the driver will hear an alert and see a message in the driver information center reading "Buckle seat belt to shift."
"Buckle to Drive is Chevrolet's latest feature designed to encourage young drivers to develop safe driving habits right from the start," Chevrolet safety engineer Tricia Morrow said in a release. "Buckle to Drive is embedded in Chevrolet's Teen Driver system and is aimed at helping remind teens to buckle up every time they get behind the wheel."
According to the Texas Department of Transportation, vehicle crashes are the leading cause of death among teenagers with about 2,800 teens in the US dying every year in car crashes and roughly two out of every four teens (drivers and passengers) involved in a fatal crash were not wearing a seat belt.
NHTSA states that of the 37,133 people killed in motor vehicle crashes in 2017, 47 percent were not wearing seat belts. In 2016, a total of 818 teen drivers and 569 passengers died in passenger vehicles driven by teen drivers, and 58 percent of those passengers were not wearing their seat belts at the time of the fatal crash.
The feature will be standard in the 2020 Traverse, Malibu and Colorado models available summer 2019.
Chevrolet's Teen Driver system was first introduced in 2015 as a way to encourage safe driving habits in teens and provide a way for parents and teens to discuss those habits.
The system tracks the distance driven, maximum speed traveled, over-speed warnings issued, wide-open throttle events and the number of times other safety systems were activated, including stability control, traction control and antilock braking and makes that information available via an in-vehicle report card.
Parents are also able to set a speed warning and limit the maximum speed of the vehicle to 85 mph. The system also automatically mutes the radio until both driver and front passenger seat belts are buckled and can set the radio's maximum volume to a lower level.
To learn more about the Teen Driver system, visit Chevrolet's website.
KTBC reported this from Austin, Texas.