CDC director urges pandemic-weary Americans to get update COVID-19 shot
ATLANTA - Only 17% of Americans got the last round of COVID-19 boosters released in the fall of 2022.
So, CDC Director Dr. Mandy Cohen knows convincing pandemic-weary Americans they need another COVID-19 shot will be challenging.
"I know everyone wants to put COVID in the rearview mirror, but unfortunately it's still here for us, here with us, and causing folks to get pretty sick, and particularly those over 65 to get really sick," Dr. Cohen says.
The new CDC director met Thursday with vaccine providers at the agency's Atlanta headquarters to talk about ways to reach Americans who may be on the fence about the vaccine.
"The first step is communicating that this week the CDC did recommend an updated COVID-19 vaccine for everyone over 6 months," Dr. Cohen says. "I also want folks to know that I'm not just the CDC director, I'm also a mom, I'm a daughter, and I'm a wife. And, I wouldn't recommend something for the American people that I wouldn't recommend from my own family."
STUDY FINDS SAME ARM COVID-19 SHOTS MAY TRIGGER BETTER IMMUNE RESPONSE
Cohen says her tween daughters, husband and parents, who are over 65, will all be getting vaccinated.
"So, I want folks to know again that these vaccines are safe and effective, and we just want folks to be as protected as they can going into the fall and winter," she says.
If you have been vaccinated against the coronavirus or been infected by it, you have some immunity to the virus.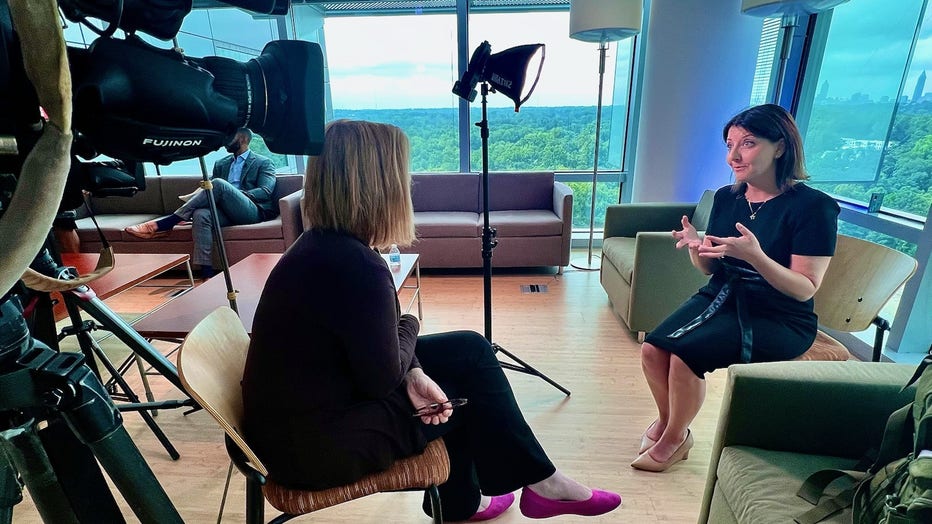 CDC Director Dr. Mandy Cohen talks about the updated COVID-19 vaccine rollout with FOX Medical Team reporter Beth Galvin at the CDC Headquarters September 14, 2023.
However, she says, that protection wanes over time, so an updated shot can restore antibody levels, boosting some of the protection you may have lost.
That immunity boost, Cohen says, is particularly important for seniors and people in higher-risk groups, who are at increased risk of developing more severe complications from the virus.
"We know that those over 65 are at the highest risk of bad outcomes from COVID," Dr. Cohen says.  "We're still seeing higher numbers of hospitalizations and frankly, hundreds of people over 65 dying every week. And so we know that they need to be protected. And so those over 65, you know, get out your plan right now and make it make a plan for getting your COVID, COVID-19 vaccine, get your flu shot as well."
THREE NEW COVID-19 TESTING KIOSKS BEING ADDED IN CITY OF ATLANTA
Now that the pandemic public health emergency has ended, the vaccine manufacturers, Pfizer and its partner BioNTech and Moderna, are charging about $130 for the vaccine.
"The good news is it is still free," Dr. Cohen says. "It's free either because it's covered by your insurance or because we have a program that we're running to offer a free vaccine to the uninsured or underinsured. You can get your vaccine for free. CVS or Walgreens, but also public health departments and health centers."
Some independent pharmacies are also participating in the Bridge To Access program and will be providing COVID-19 shots at no cost for those without insurance or whose insurance plan does not cover the full cost of the vaccine.
You can find vaccine in your area on vaccines.gov.