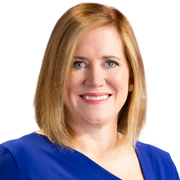 Beth Galvin gets to the heart of the story… literally! Inspiring and informative, Beth brings you comprehensive and intelligent health stories you won't see on any other Georgia TV station.
She began her on-air career at Chattanooga's WTVC and was first seen on Atlanta-area televisions as a general assignment reporter for WXIA. In 1996, Beth joined FOX 5 Atlanta and became the regular face of our FOX Medical Team reports.
Battling a serious health problem reveals a person's strength and vulnerability. Beth has been touched by many of the people she has covered, like a 19-year-old's lifesaving heart transplant and a baby's struggle with a defective heart.
Her reporting has not only caught the attention of viewers, but of media and medical professionals as well. She has won a regional Emmy for Outstanding Achievement in Medical Reporting and an award for Specialty Reporting from the Georgia Associated Press Broadcasters. The Georgia Physicians Association/Atlanta Medical Association also presented her with an award for Outstanding Health Reporting.
Beth attended Wesleyan College in Macon, graduating with a bachelor's degree in international relations. Beth lives in Decatur with her husband, Brad. When she's not working, Beth enjoys curling up with a good book, digging in her garden and traveling to national parks.
The latest from Beth Galvin