Black Wolf owner loses security license, accused of endangering public with armed rideshare drivers
LAWRENCEVILLE, Ga. - Kerry KingBrown's idea certainly seemed innovative: provide armed security guards as rideshare drivers and let customers request a ride through an app just like they would Uber or Lyft.
The Georgia-based Black Wolf App attracted national cable news attention earlier this month as well as a story from FOX 5.
But KingBrown's idea is in danger — his own security license has since been terminated — because of a dispute over whether his company is really providing security services.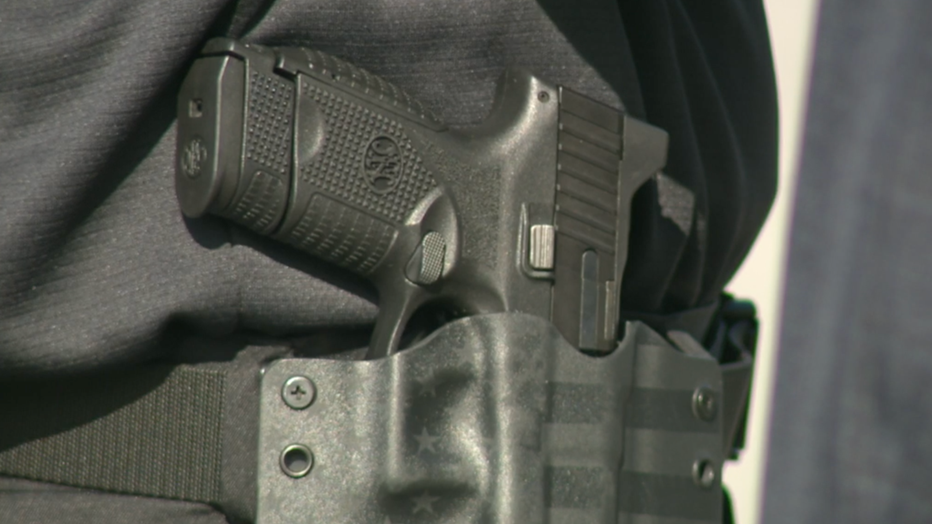 Georgia-based Black Wolf App provides armed drivers for rideshare services. The cost is $60 plus $1.75/mile.
In Georgia, a state licensing board regulates any company or individual who is paid to protect "persons from death or serious bodily harm."
Not only must the company be licensed, but all employees as well. And they can only be licensed under that company.
KingBrown, 32, told the FOX 5 I-Team he didn't believe the law applied to Black Wolf App.
"It's a tech company," he said. "Everybody thinks it's a security company."
If everyone thinks that, it could be because of what they've heard KingBrown say.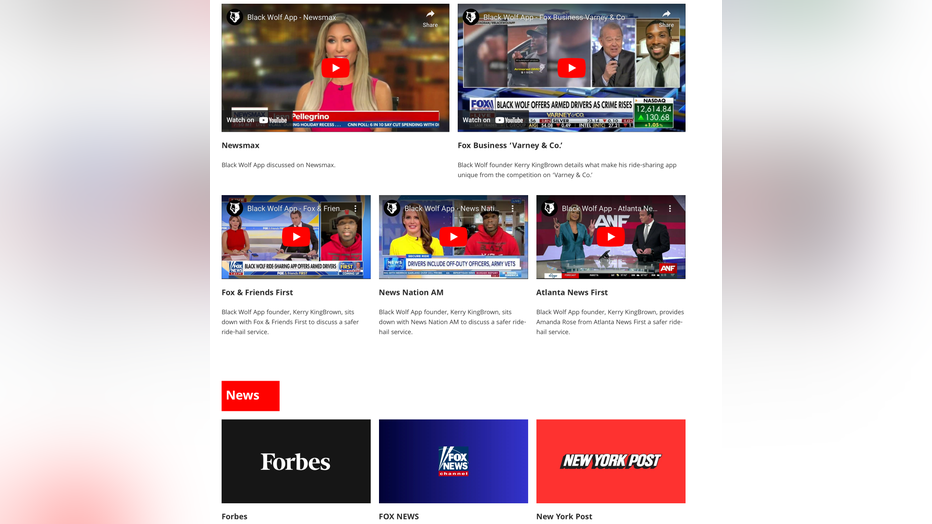 Black Wolf posts links to the favorable coverage generated by national news media.
On NewsNation: "I don't want people to focus on the world 'armed.' I want them to focus on the security this app will bring."
On Newsmax: "All these services are provided by executive protection drivers."
On FOX 5: "We're getting robbed. We're getting raped. We're getting shot … the general public. So, that's what it was created for."
On every news story posted on his website, Kerry KingBrown's marketing message never wavered: the world's gone to hell, and for $60 plus $1.75 per mile, Black Wolf App can safely drive you to the other side.
KingBrown told FOX 5 the national attention generated 95,000 downloads of his app and accelerated plans to move into additional states like Texas and California.
"I know the state laws," he insisted. "I know how this works. So, at the end of the day, that's why I didn't come out and say 'This a security company.'"
KingBrown said he had an individual armed security guard license through Loyd Investigations in Thomaston.
FOX 5 I-Team: "So does Loyd know you're doing this?
KingBrown: "Yes."
FOX 5 I-Team: "And they approve of it?"
KingBrown: "Yes, he approves of it."
He does not approve of it.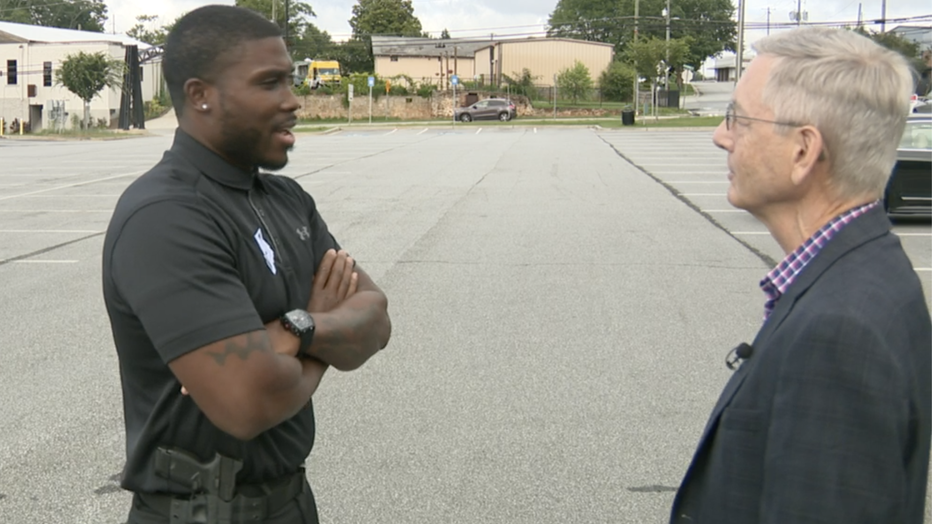 Black Wolf App founder Kerry KingBrown lost his individual security license because the company that originally licensed him said what Black Wolf is doing "is illegal in the state of Georgia."
Loyd Investigations owner Don Warrington told the FOX 5 I-Team what KingBrown is doing "is illegal in the state of Georgia. He knew better. He can't open a company, carry guns and transport people and tell them it's a tech company."
Warrington quickly terminated KingBrown's individual private security license.
A spokesperson for the State Security Agencies Board said they've turned over the Black Wolf case to the attorney general's office.
An AG spokesperson said, "We are actively reviewing this matter."
Other security company owners worry about Black Wolf App as well.
Obie Bryant started Bryant Safety and Security Solutions in Decatur 11 years ago. He said there's a danger to the public doing business with a security company that's not licensed.
"The person you're in the car with who's carrying a firearm has not been properly trained," he said. "And someone ends up getting seriously hurt or maybe fatally."
KingBrown said he only hires state-licensed security officers. But, the law only allows those officers to work for the company that originally licensed them.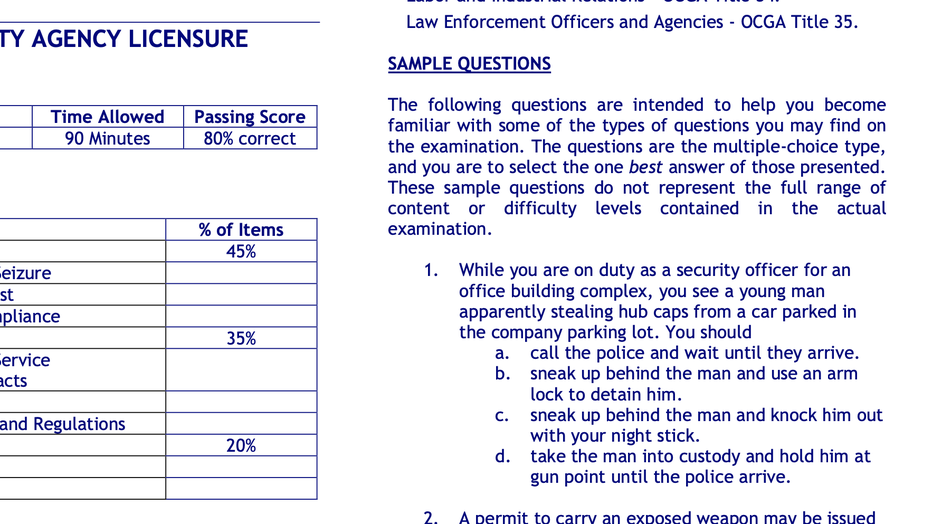 A sample question from the Georgia exam for security agencies.
In 2021, before he came up with the app idea, KingBrown said he did try to get Black Wolf licensed through the state. Despite multiple attempts, he couldn't pass the written test.
"It's extremely hard," he admitted.
Is that why he created the rideshare business model instead?
"Not necessarily," said KingBrown.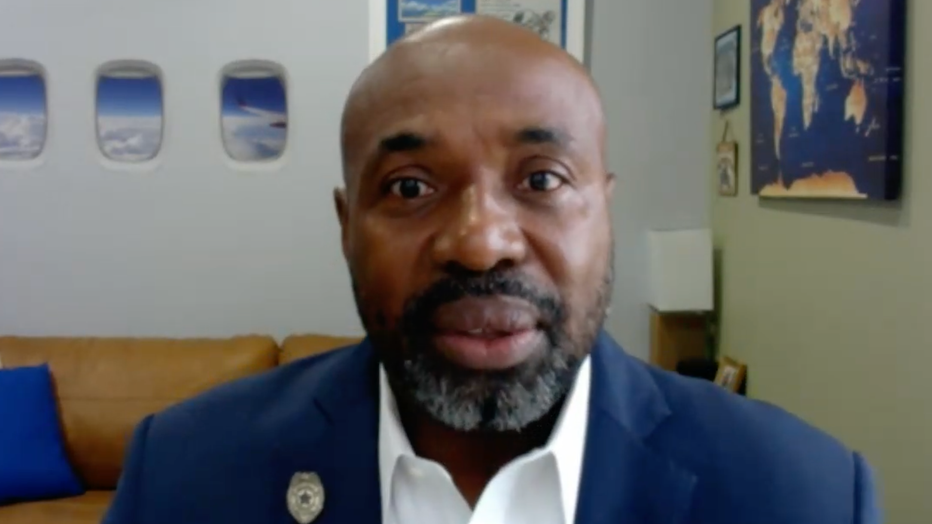 Private security company owner Obie Bryant worries about the risk of riding with an unlicensed security company.
Bryant said the written test is another step to keep the public safe.
"I'm not going to say it's not hard, but if you know the industry, and you're qualified to do it, then you won't have any problems with it," he said.
KingBrown did not respond to follow-up questions about the status of his company now that his individual security license has been terminated.
But, he told us earlier he was still picking up clients, including celebrities, CEOs and one politician.