Biden, Harris to visit Atlanta Tuesday to discuss right to vote legislation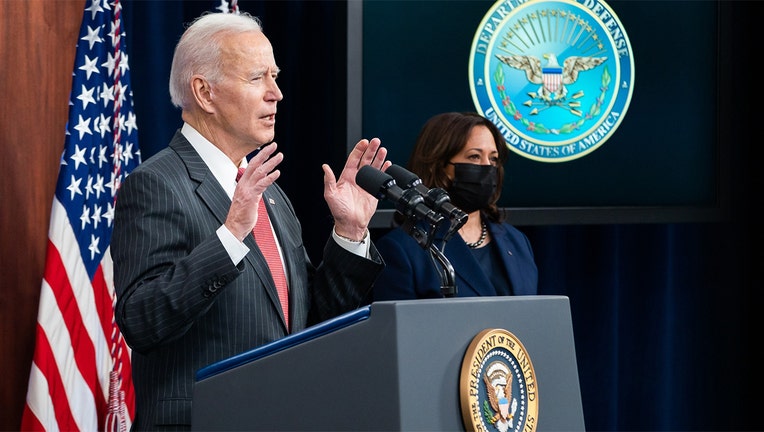 article
ATLANTA - President Joe Biden and Vice President Kamala Harris will be in Atlanta on Tuesday to discuss the need for federal legislation to protect the right to vote.
In an advisory issued on Wednesday, the White House said the president and vice president would speak to the American people specifically addressing the "urgent need to pass legislation to protect the constitutional right to vote and the integrity of our elections from corrupt attempts to strip law-abiding citizens of their fundamental freedoms and allow partisan state officials to undermine vote counting processes."
The advisory did not provide the time or location of the event.
WHAT IS IN GEORGIA'S NEW ELECTION LAW?
Georgia has been the epicenter of debate on voting rights after Gov. Brian Kemp signed Senate Bill 202 into law. The GOP-sponsored bill was in response to the 2020 election which saw the state swing for Biden over then-President Donald Trump and vote in two Democratic US Senators during a runoff. Supporters of the bill said it helps to intensify the integrity of voting in the state while some see it as a form of voter suppression against minority groups.
Sen. Jon Ossoff, D-Ga., in August introduced the "Right to Vote Act," which he said would create the first-ever affirmative Federal voting rights guarantee for all U.S. citizens. Later that same month, House Democrats passed the John Lewis Voting Rights Advancement Act with no Republican support. Neither piece of legislation has moved forward since.
VICE PRESIDENT HARRIS RELEASES STATEMENT ON VOTING RIGHTS FOLLOWING ATLANTA VISIT
This is not the first time both the president and vice president have visited Atlanta together. The two visited the Centers for Disease Control headquarters back in March.
WATCH: FOX 5 NEWS LIVE COVERAGE
_____