Bermuda Whipped by Weakening Hurricane Joaquin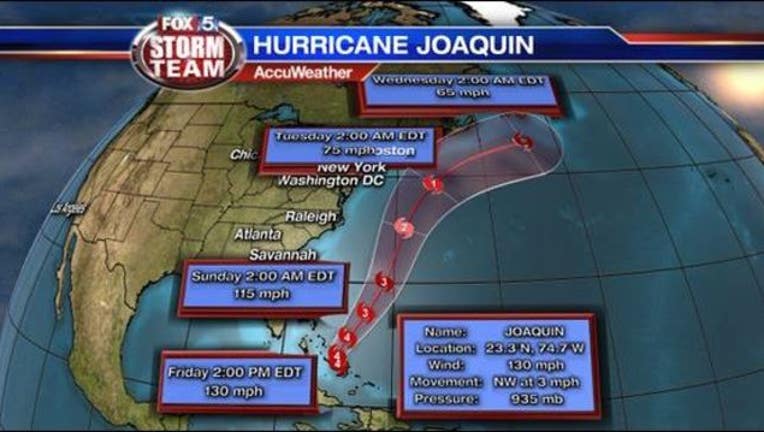 article
ELEUTHERA, Bahamas (AP) - HAMILTON, Bermuda (AP) — Bermuda was lashed Sunday by gusting winds and pelting rains from a weakening Hurricane Joaquin as its spinning center tracked just west of the wealthy financial haven and tourist destination after plowing through the Bahamas as a major storm.
Residents of the mid-Atlantic British dependency mostly hunkered down at home after securing patio furniture and stocking up on gas and batteries as the hurricane whipped the mid-Atlantic British territory. All flights to L.F. Wade International Airport were cancelled and ferry service was closed due to rough seas. Emergency service agencies were placed on alert and there were scattered power outages by early evening.
"I think it's going to be bad, and last year I lost a lot of stuff to the storms," said retiree Susan DeSilva, whose son-in-law helped her secure her windows and doors as the storm approached.
Others were far less worried in the tiny territory accustomed to rough weather. At least one bar in the capital of Hamilton was packed with people riding out the hurricane with drinks and friends.
"I can think of worse places to be," said Derrick Tucker in the crowded Robin Hood Pub and Restaurant as the wind whistled outside.
After roaring across parts of the Bahamas as a major Category 4 hurricane, Joaquin lost steam as it headed north. By late Sunday night, U.S. forecasters said sustained winds had dropped to 85 mph (140 kph). Still, it was expected to bring hurricane conditions and life-threatening storm surge to Bermuda Sunday night when the storm's eye passes closest to the island. The U.S. National Hurricane Center said isolated tornadoes were also possible.
As the hurricane's eye moves past Bermuda, swells kicked up by the storm will continue to affect the Bahamas and the eastern coast of the U.S. about 600 miles (965 kilometers) away.
The U.S. National Hurricane Center in Miami said that elevated water levels and big waves from Joaquin will affect the U.S. mid-Atlantic region, "causing significant beach and dune erosion with moderate coastal flooding likely."
Joaquin lashed the lightly populated southeastern Bahamas earlier in the week, damaging hundreds of homes and causing severe flooding on several small islands in the sprawling archipelago off Florida's east coast. The government said it was still working to calculate the extent of the damage to infrastructure and private property.
Prime Minister Perry Christie said southern Long Island, in particular, experienced "major devastation" and authorities were working to bring immediate assistance to impacted families. An elderly man died on Long Island during the hurricane but it has not yet been determined if the storm caused his death, said Capt. Stephen Russell, the director of the Bahamas National Emergency Management Agency, and police say they have no confirmed loss of life from Joaquin.
Aircraft and ships returned to the southeastern Bahamas early Sunday to resume searching for a U.S. cargo ship with 33 people on board. The craft lost power and communications when it was caught in the strengthening hurricane and has not been heard from since Thursday.
U.S. Coast Guard, Navy and Air Force planes and helicopters were looking for the ship across a broad expanse of the Atlantic Ocean around Crooked Island, which it was passing when it was battered by fierce winds and waves by what was then a Category 4 hurricane.
Joaquin's center was located some 70 miles (110 kilometers) northwest of Bermuda, with hurricane-force winds extending outward up to 45 miles (75 kilometers). It is tracking north-northeast at 13 mph (20 kph). After it passes Bermuda, more weakening of the storm was forecast as it travels north-northeast.
___
Contributor Josh Ball reported from Hamilton, Bermuda; AP writer David McFadden reported from Port-au-Prince, Haiti.