Baby delivered near DeKalb Waffle House 'healthy and great'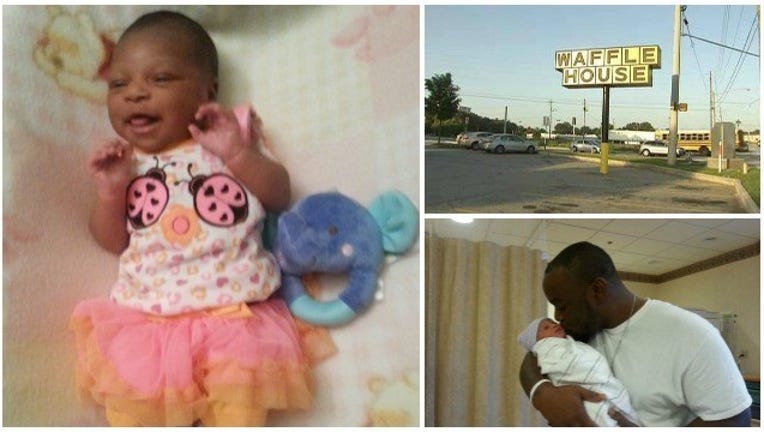 A metro Atlanta man loves spending time with his newborn baby girl following her dramatic delivery.
It happened last month right before Father's Day. Johnny Davis and his fiancée, Tiffany Williams, were headed to Northside Hospital when Williams' water broke.
"We get on the road and next thing you know, the baby's head was coming out," said Davis.
Davis ended up delivering the baby on the side of the road and then drove to a nearby Waffle house in DeKalb County. Their story was shared on Facebook across the country.
FOX 5 caught up with David right after it happened. He was overjoyed with excitement!
"There was no question about it. I knew what I had to do. I knew my baby was coming. I knew I had to do something to make this happen and that's what I did, man. I made it happen. The baby's here. Waffle House is saying we should name the baby Waffleina, but it's not going to happen!"
On Friday, the day before Independence Day, Davis told us the baby is doing great and, fortunately, they did not name her "Waffleina." Instead, they went with "Jordyn."
Davis said she's healthy and growing about an ounce a day.
Waffle House reached out to the family shortly after the delivery to congratulate them and send well wishes.
The family said they didn't have any big 4th of July plans other than just taking it easy and spending quality time with their sweet baby.
SEE RELATED: Man deliver baby on road near Waffle House 
APP USERS: Click here to view the new photos of baby Jordyn!