Atlanta Public Safety Training Center task force meets for first time, critics argue lack of transparency
ATLANTA - A special task force created to foster community input on the Atlanta Public Safety Training Center met for the first time Wednesday morning, but critics complain the closed door meetings lack accountability.
Atlanta Mayor Andre Dickens says plans for the training center are moving forward and so are meetings for the special task force.
'This was the very first meeting of a group of people who had not been gathered together for this cause," Dickens said. "The individuals in this meeting tell us how they want to conduct that meeting."
Atlanta Police want to build the controversial $90 million facility in the south river forest in DeKalb County. Mayor Dickens touted the task force with support of leaders like former mayor and U.N. Ambassador Andrew Young.
The panel was formed, according to Dickens, to create greater community input on everything from parks and green space to sustainability related to the construction project.
DEKALB COUNTY RELEASES AUTOPSY IN 'COP CITY' PROTESTER DEATH
Demonstrators and police have clashed over the project and some of the conflicts have turned violent.
Dickens says some members of the group are concerned for their own safety.
"A lot of these individuals expressed today that they were scared," the mayor said. "Scared of the individuals who have thrown Molotov cocktails – who have sent threatening letters."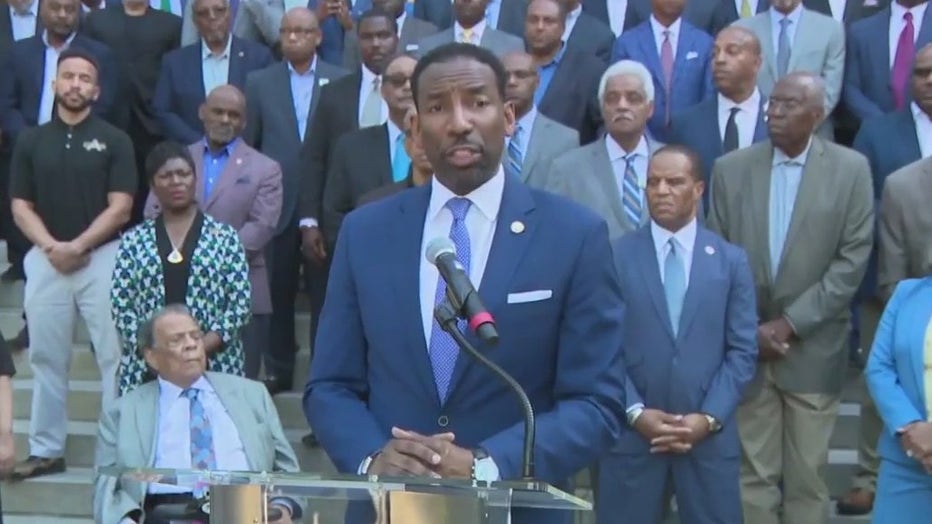 Atlanta Mayor Andre Dickens holds press conference following first meeting of the Atlanta Public Safety Training Center special task force April 19, 2023.
Critics argue that the meetings lack transparency. 
"There is no reason whatsoever for these closed-door meetings," said Kamau Franklin, leader of Community Movement Builders, a group opposed to the training center. "This is nothing but a dog and pony show, which is meant to give the mayor cover for something that he's doing that there is not public support for."
Dickens says task force members are willing to speak with reporters at the end of their meetings.