Atlanta muralist creates Trump mug shot mural on Atlanta BeltLine
ATLANTA - There's a new mural on the Atlanta BeltLine Eastside Trail featuring former President Trump's infamous mug shot.
The mural, which is near the Historic Fourth Ward Skatepark, was created by popular Atlanta muralist Chris Veal.  
Veal said it took him about 3 hours to paint the mural and the reaction to the mural has been positive with people laughing and smiling and giving him high-fives.
When asked what he hoped people would get out of it, Veal said that he just wants people to get a kick out of it, and he hopes it inspires people to vote.
Veal is known for his comic book style and social commentary that pokes fun at hot topics.
Previous works include a mural that was created after a giant sinkhole opened on Ponce De Leon Avenue; a mural that poked fun at student loan paybacks; a mural that points out that it can take 15 years for the average teacher to earn the pay of the lowest NFL player; a mural about feeling lonely after election robocalls end; and many more.
He has also done numerous portraits of famous people including Jimmy Carter and John Lewis. 
Trump's mug shot is popping up in a variety of places and a variety of products, including those sold by the Trump campaign. In contrast to how most people feel when they are forced to pose for a booking photo, the former president seems rather proud of his mug shot.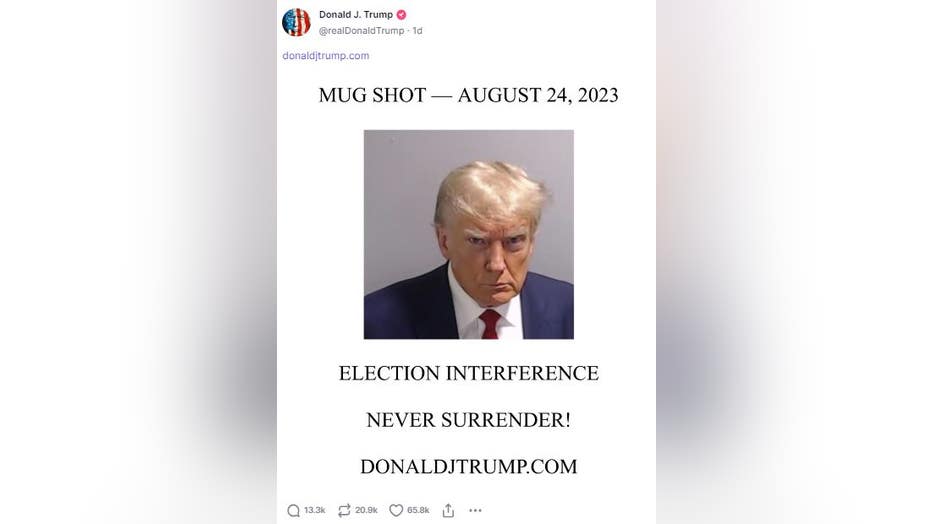 RELATED STORIES
TRUMP SURRENDERS AT FULTON COUNTY JAIL IN GEORGIA, HAS MUG SHOT TAKEN
TRUMP 2024 CAMPAIGN RIDES THE VIRAL WAVE OF HIS MUG SHOT WITH BOLD MERCH LINEUP
TRUMP BOBBLEHEAD ANNOUNCED BY NATIONAL BOBBLEHEAD HALL OF FAME AND MUSEUM
Trump, along with 18 others, were indicted last week by a Fulton County grand jury for allegedly interfering with the 2020 election. The indictment came after a lengthy investigation instigated by Fulton County District Attorney Fani Willis. All the defendants were given a deadline of noon Aug. 25 to turn themselves into the Fulton County Jail to be fingerprinted and photographed.