Atlanta Homeowners Ask for Yard Signs Blasting Mayor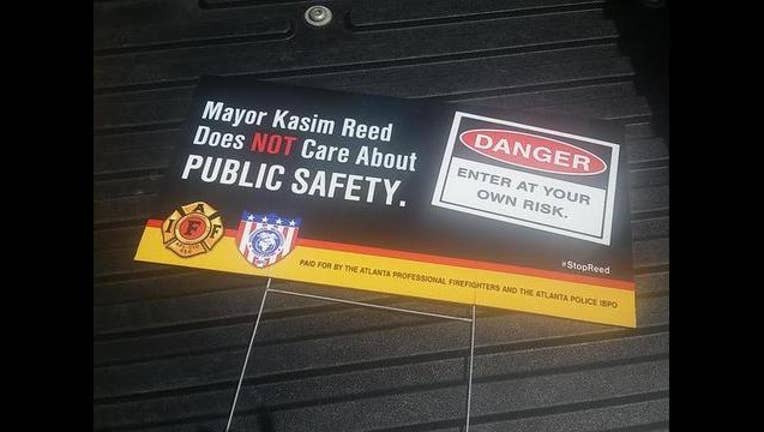 article
ATLANTA - Fire union members from Local 134 spent the afternoon putting together yard signs that blast Atlanta Mayor Kasim Reed.
It is the latest round in a public and passionate fight over pay raises for police officers and firefighters.
Union bosses said homeowners in two communities, Buckhead and Hills Park, not far from a violent home invasion where a father was shot defending his family, have asked for the signs.
"I got two different communities that have reached out to me. They have heard about the campaign, the arguments and conflicts between us and the mayor. They asked to come out and be supportive," IBPO President Ken Allen said.
The yard sign campaign follows a controversial billboard, just south of downtown, which broadcasts the same message. This time the campaign costs about a $1,000, but it is the message it represents that organizers hope will catch traction.
Mayor Reed has said in the past he will come to the negotiating table to talk about raises when police and firefighters drop their pension lawsuit. But the union said that can't happen.
"There's no way out of that. Remember the pension lawsuit involves 6,000 employees.  Several of which have retired from the department, left the department. All those people are part of this suit," Allen explained.
The public safety unions told FOX 5 News that they got calls from two communities in the Buckhead area wanting these yard signs. But Thursday afternoon a new call came from a southwest Atlanta community.
"I am sure there are a lot of people who are very hesitant from putting up a bold sign in their front yard; however, we are getting citizens calling us and emailing us asking for them," Vic Bennett from Local 134 said.
Homeowner Kathy Crawford in southwest Atlanta said she believes Mayor Reed is a bully and should negotiate with police and fire despite the pension lawsuit.
The unions said the first meeting was in a private home in northeast Atlanta at 5 p.m. The second community meeting is scheduled for next week in Hills Park.