Atlanta chief: Officers told to stay vigilant after Dallas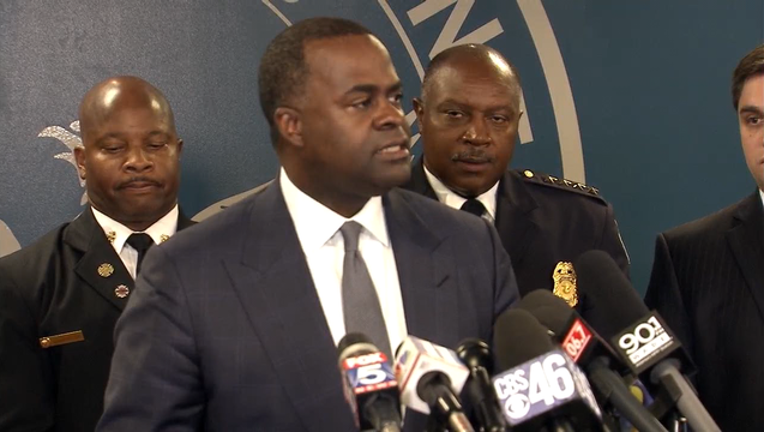 article
ATLANTA (AP) — Atlanta Police Chief George Turner said Friday that officers are being told to stay "vigilant and professional" following the Dallas shooting that killed five officers and wounded seven others the night before.
Turner and Atlanta Mayor Kasim Reed also said people have the right to protest recent police shootings of civilians at events planned this weekend in Atlanta but urged them to cooperate with law enforcement. Hours after Reed and Turner spoke to reporters on Friday, hundreds of people began gathering at Centennial Olympic Park in downtown Atlanta for a planned march.
Reed warned that "peaceful protest also means following the instructions of law enforcement officers on the street." He blasted some attendees of a Thursday night demonstration who entered and temporarily blocked Interstate 85 that cuts through downtown Atlanta.
"We will not tolerate the destruction of any property or any unlawful forms of protest in our city," Reed said.
An unknown number of shooters shot the Dallas officers and two civilians during a peaceful protest Thursday night, authorities said. The protests erupted over the recent shootings of black men by police in Baton Rouge, Louisiana, and suburban St. Paul, Minnesota.
Turner said the department's strategy during demonstrations may change in small ways but commented that police won't wear heavy tactical gear. Unlike departments in other cities, Atlanta hasn't asked all officers to pair up on patrol, Turner said.
"We are telling our officers to stay vigilant and stay professional, and make sure you remember your tactics," Turner said.
Commanders overnight and Friday morning reported some Atlanta officers "feel that they are under attack," Turner said. He said he's confident, though, that they are well-trained and professional.
"Our officers are concerned, as I am concerned, upset absolutely," Turner said. "But professional in making sure they are delivering services to the citizens that we are sworn to protect and serve."
Reed also asked people upset with the recent police shootings to "look at the whole picture" and not paint all police officers "with a broad brush." He said local law enforcement are first to respond to mass shootings and other incidents, specifically mentioning recent attacks at a gay club in Orlando and elsewhere.
"I know what it is to be a black man," Reed said. "But it doesn't mean that you take your frustrations out by harming other people."