Police: Atlanta officers ambushed by gunfire in elevator of apartment building, suspect killed
ATLANTA - An officer with the Atlanta Police Department is recovering after being "ambushed" and shot in the face during a call at a Midtown apartment on Wednesday afternoon. The officer was listed in stable condition as of Wednesday evening.
During a news conference Thursday, Chief Rodney Bryant identified the wounded officer as Officer Khuong Thai.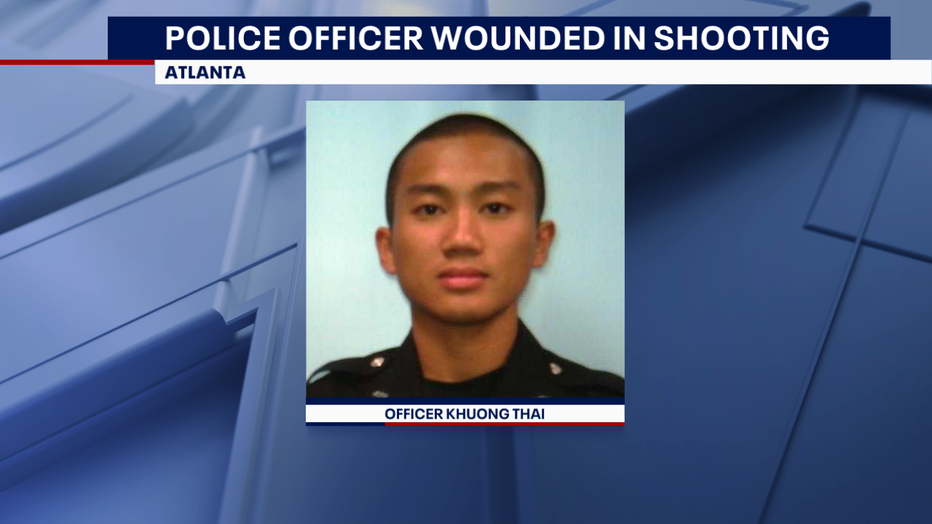 "Officer did go into the building, upon exiting the elevator, they were immediately approached with gunfire. Officers were able to return fire where we believe the one suspect was fatality struck," Atlanta Police Deputy Chief Charles Hampton, Jr.
The deputy chief said the two officers were responding to a report of shots being fired at the Solace located at 710 Peachtree Street near 3rd Street NE around 1 p.m.
"While so many of us run from danger, our officers run into danger and that is what happened today. We had two officers, who initially responded to a shots fired call just a couple of blocks from here... These officers were ambushed," said Mayor Keisha Lance Bottoms speaking from in front of the Fox Theatre, just a block south of the scene around 3:30 p.m.
Hampton said the officers were "immediately" met with gunfire after exiting an elevator on the eighth floor of the building.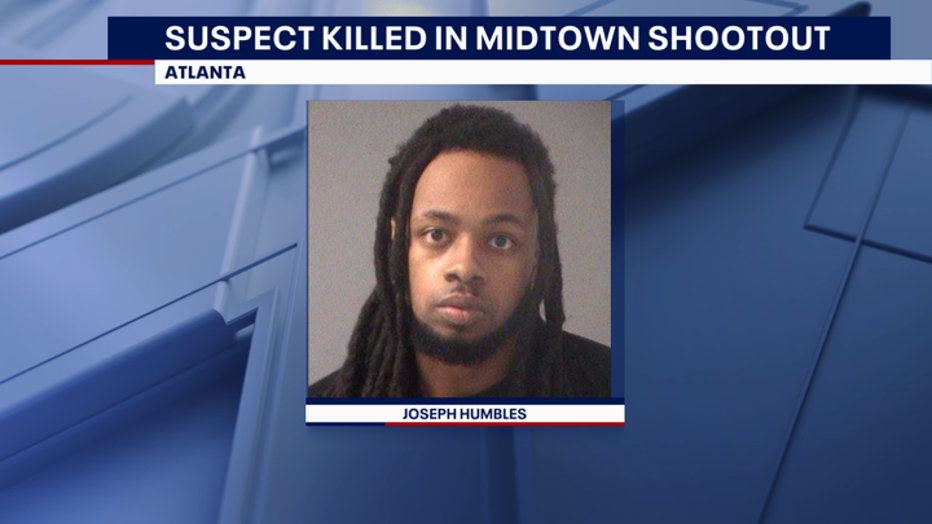 "As soon as the elevator doors opened, they were met with gunfire," Hampton, Jr. said.
Police said the officers returned fire, striking the gunman, identified as 29-year-old Joseph Lee Humbles.
"We do have one individual that was killed that is still being investigated by the Atlanta police and the Georgia Bureau of Investigation," Atlanta Police Chief Rodney Bryant said.
The injured officer, a two-year veteran of the Atlanta Police Department, was pulled from the building by his partner and other offices arriving at the scene. A video shared with FOX 5 shows those officers stabilizing him and then carrying him to an ambulance to be rushed to Grady Memorial Hospital. Police said he suffered multiple gunshot wounds with at least one shot to the face. But he was able to speak with the chief and his partner under heavy sedation at the hospital.
Police said once the scene was secured, officers also found a shooting victim that triggered the initial shots fired call. The victim, whose name has not been released, was also taken to an area hospital in stable condition.
Details surrounding Humbles, the victim, or what led to the shooting have not been released.
A second officer was injured in a crash responding to the scene and was said to be doing fine.
"What we have witnessed today is what is the absolute most dangerous aspect of this job. But even when faced with these very dangerous and very quick moving circumstances, our officers showed extreme courage," the mayor said.
Mayor Bottoms praised the initial officers that responded and the department as a whole.
"While so many of us run from danger, our officers run into danger," Bottoms said.
"I told him how proud I was of him and his actions. He said he understood. I told him that I was going to speak to his family and he said he understood," Chief Bryant said during a 6 p.m. press conference recalling the conversation he had with the injured officer.
Multiple local, state and federal law enforcement officials responded to the scene following the shooting.
The police activity closed several Midtown streets into the evening hours. Peachtree Street between North Avenue and 4th Street was shut down to allow for rescue crews and investigators to work the scene.
SKYFOX 5 flew over the scene shortly after it happened and saw law enforcement in tactical gear entering a building with the entrance taped off.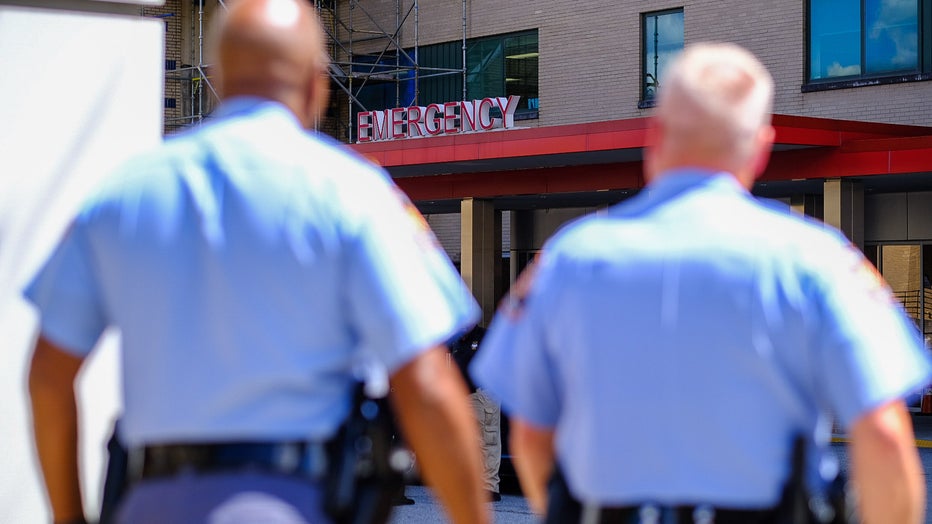 Law enforcement was present at Grady Memorial Hospital where a wounded officer is being treated on Wednesday. (Photo: Billy Heath/FOX 5 Atlanta)
The Georgia Bureau of Investigation will handle the officer-involved shooting aspect of the case. 
According to the GBI, this is the 50th officer-involved shooting the state law enforcement agency has been asked to investigate. Last year, the agency responded to 96 shootings involving local law enforcement and in 2019, it was asked to review 84 cases.
The GBI does not keep track of how many of those shootings involved an injured officer, but according to the FBI, 165 law enforcement officers were assaulted in 2019 and another three were feloniously killed in the line of duty. Just over 45 percent of the 511 officers feloniously killed between 2010 and 2019 were from southern states with 28 of those officers being from Georgia, according to the FBI.
"It is only through their training and by grace of God that these officers did not come upon, come upon a more tragic situation," the chief said.
News of the shooting swept across the city on Wednesday with Gov. Brian Kemp calling for support of the Atlanta Police Department and the wounded officer. 
Gov. Brian Kemp quickly tweeted:
"Please join our family - and all Georgians - in praying for healing for this wounded @Atlanta_Police officer."
WATCH: FOX 5 Atlanta live news coverage
_____
Sign up for FOX 5 email alerts
Download the FOX 5 Atlanta app for breaking news and weather alerts.