Animal clinic searching for owner of puppy attacked by dog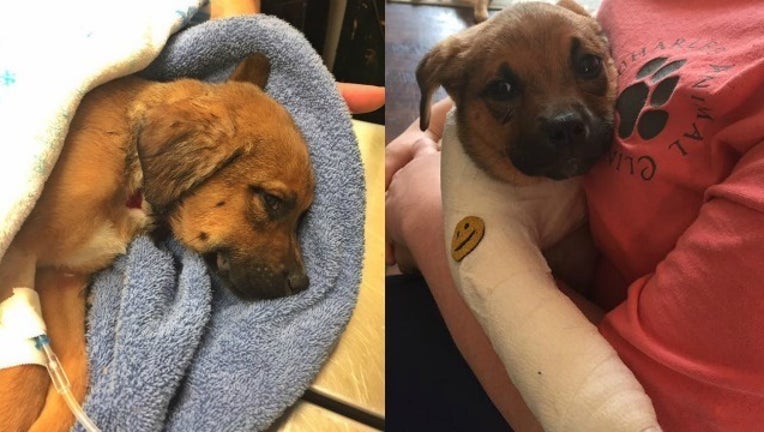 CARTERSVILLE, Ga. - An animal clinic in Cartersville is hoping to find the owner of a small puppy that was attacked by another dog last week.
Cori McMichael with Euharlee Animal Clinic told FOX 5 a puppy, about 9 or 10 weeks old, was brought into the facility last Monday by a woman who said the attack happened in front of her Brent Circle home.
McMichael said the puppy suffered significant injuries, which included a broken leg.
"She was in complete shock," McMichael said.
Euharlee Animal Clinic contacted Animal Control immediately to notify them the dog was in their care, and then decided to get her the help she desperately needed.
"She underwent orthopedic surgery at another clinic, because we don't do orthopedic surgery here," McMichael said.
Euharlee covered the cost for the dog's surgery last Friday, as well as the cost of her continued care at their facility. 
"We'll have her here until she's healed," McMichael said. "In another week, we're taking another x-ray to see how the progression of her healing is."
McMichael told FOX 5 the dog will be in a cast for about five weeks, but she won't need to stay at the facility for that long. They're hoping her owner steps forward beforehand; however, if that doesn't happen, the plan is to find her a forever home. 
"Several people have contacted us already, if no owner is found," McMichael said. "We had a large following when we first posted her story on Facebook, but no owner has come forward." 
McMichael said they aren't exactly sure what type of dog she is, but think she's possibly a Shepherd or Boxer mix. 
Anyone with information is asked to contact the clinic by calling 770-607-2204.