Andazi the rhino leaving Zoo Atlanta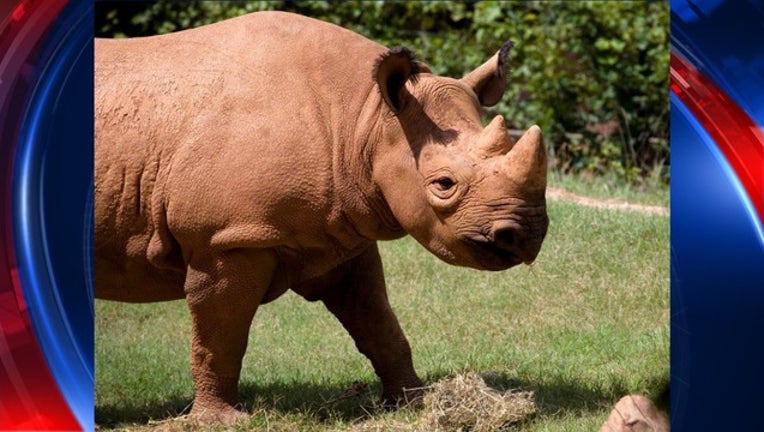 ATLANTA - The mother of the first rhino calf ever born at Zoo Atlanta will soon begin a new chapter in Arkansas. Andazi, a 10-year-old female eastern black rhinoceros, will be leaving Zoo Atlanta on March 30th and will head to the Little Rock Zoo.
Andazi will have a chance to contribute to the zoological population of one of Earth's most endangered mammal species. Andazi's move is a recommendation of the Association of Zoos and Aquariums' Rhino Species Survival Plan.
"Andazi is very special to Zoo Atlanta and especially to her care team, but this opportunity is so important for her and for the zoological population of rhinos in North America," said Hayley Murphy, DVM, Vice President of Animal Divisions. "This is a species facing extinction within our lifetimes and may someday only persist in zoos without targeted conservation efforts. We're hopeful that Andazi will have an opportunity to be a mother again, and we look forward to keeping up with her new chapter in Little Rock."
Andazi was born on July 15, 2006 at Zoo Miami. She has lived at Zoo Atlanta since April 2010. She is the mother of the first rhino calf ever born at Zoo Atlanta, Jabari, born in 2013. Both Jabari and his father, Utenzi, now live at other zoos. Eastern black rhinos are a solitary species, and calves are weaned from their mothers when they are around 2 years old.
Eastern black rhinos are a critically endangered species. In the wild, black rhinos are found only on preserves, primarily in Kenya, as their populations have plummeted by as much as 90 percent over just three generations, according to the International Union for the Conservation of Nature. Their most immediate threat is illegal hunting for their horns. Although rhino horns are made of keratin – the same material found in human hair and fingernails – a demand persists for their use in traditional medicines, and rhino horn has been valued as highly as gold on black markets. 
Rhinos are expected to return to Zoo Atlanta with the opening of Grand New View, which will include an expanded rhino habitat in addition to an all-new African savanna for African elephants and other species. As part of the project, the historic Cyclorama building will be transformed into a state-of-the-art events destination which will feature sweeping views of both the savanna and a new Zoo entry plaza. Project completion is estimated for early 2019. 
SEE ALSO: Zoo Atlanta's giant panda twins reach new milestone