A July 4th with no fireworks? What to know as some cities turn to high-tech alternatives
PHOENIX - For many people, July 4th is marked by many events, including fireworks displays.
In recent years, however, some parts of the U.S. have replaced their fireworks displays with something a bit more high-tech.
Here's what to know about drone displays, and reasons why it is replacing fireworks displays.
Why do we set off fireworks on the 4th of July?
According to the Associated Press, pyrotechnics display has been a big part of Independence Day from the outset.
The AP article states that John Adams, who signed the Declaration of Independence and would later serve as the nation's second president, foresaw the popularity of fireworks display in a letter he wrote to his wife, Abigail.
"I am apt to believe that it will be celebrated, by succeeding Generations, as the great anniversary Festival," read a portion of the letter, which was dated July 3, 1776. "It ought to be commemorated, as the Day of Deliverance by solemn Acts of Devotion to God Almighty. It ought to be solemnized with Pomp and Parade, with Shews, Games, Sports, Guns, Bells, Bonfires and Illuminations from one End of this Continent to the other from this Time forward forever more."
The History Channel noted that fireworks became an increasingly important part of Independence Day festivities after the War of 1812, due to fireworks becoming more widely available, and the phasing out of cannons and gunfire as part of celebrations due to public safety concerns. 
Meanwhile, according to the Encyclopedia Britannica, hundreds of years of royal pageantry resulted in fireworks becoming a central component of 4th of July celebrations across the U.S.
"The celebratory display of fireworks we know today evolved out of the use of fireworks in romantic performances of combat and in elaborate pageants and plays, typically associated with national events," read a portion of the article. "By the 18th century, [fireworks displays] had grown particularly extravagant in Europe in proportion to the opulence of rulers such as King Louis XIV and Peter the Great. Thus, by the time of the American Revolution, spectacular displays of fireworks had already become a popular way to celebrate national prosperity and patriotism."
Why are fireworks displays being replaced?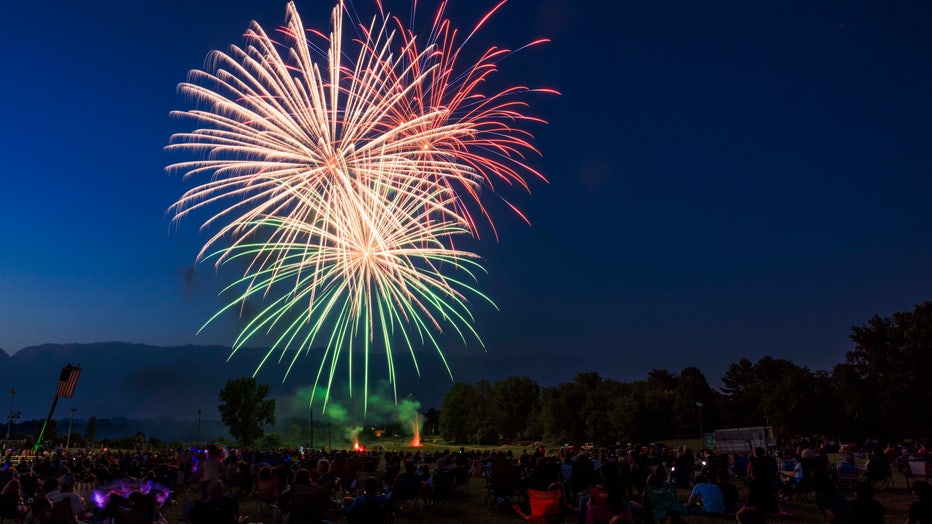 A large crowd watching fireworks in Indiana. (Photo by Jeremy Hogan/SOPA Images/LightRocket via Getty Images)
In recent years, a number of factors have contributed to fireworks displays being canceled or replaced with alternatives in various parts of the country.
In 2022, the Associated Press noted that overseas shipping, transportation in the U.S., rising insurance costs and labor shortages have led to canceled displays.
In addition, the threat of wildfires has resulted in some cities replacing their fireworks displays with alternatives. According to figures provided by the National Fire Protection Association, fireworks cause an estimated 19,500 reported fires in the U.S. each year. The figures, however, did not make a distinction between professionally organized fireworks displays and fireworks set off by the average person.
An additional factor, according to public television station WGBH in Boston, is air pollution, citing an expert who said that during times when fireworks usage is high, air quality would turn bad.
The WGBH article also said that fireworks displays can be harmful to people with PTSD, as well as pets and animals.
What are the alternatives to fireworks displays?
Some cities have opted to replace their fireworks display with laser light shows. That happened in Flagstaff in 2022, and in Petaluma, Calif. during the same year.
Drone displays have also become an alternative. According to the AP, Salt Lake City opted to replace its fireworks display with drone shows in 2023, in what was described as the first decision of its kind for the city. Communities on the north shore of Lake Tahoe are also celebrating 4th of July with a drone show.
What are the advantages of laser light displays and drone displays?
Laser light displays
In a 2022 article published by the magazine Government Technology, an official with the city government in Salt Lake City, Utah said the cost of a laser light display was in the same price range as a traditional firework show, at least in the case for Salt Lake City.
In a 2022 report by Salt Lake City NBC affiliate KSL, city officials also said laser shows help reduce the problem of increased air pollution and wildfire threats that come with fireworks.
According to the website of Emerald Owl Productions, a North Carolina-based company that puts on laser shows and other performances, laser light displays can take place in light to moderate rain.
Drone displays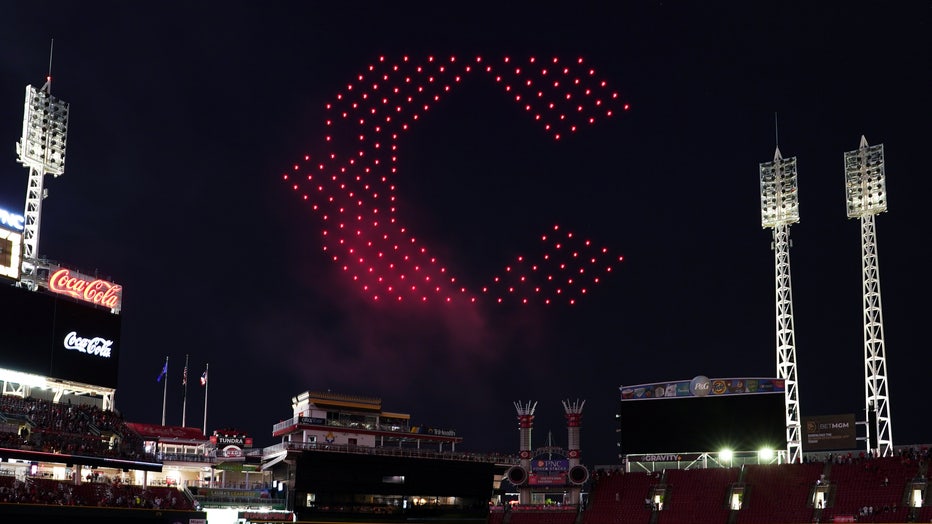 A general view of a drone display after the game between the New York Yankees and the Cincinnati Reds at Great American Ball Park on May 19, 2023 in Cincinnati, Ohio. (Photo by Dylan Buell/Getty Images)
According to the Government Technology magazine article, the programmable nature of drones meant that the show can be catered to more specific tastes. The article cited a show in Imperial Beac, Calif., where the drones came together to create the shape of the five military branches' symbols as a tribute to those in the area who are members of the military.
In the same article, the CEO and founder of a company that produces drone light shows said drone shows can take the guesswork out of events, as precisely planned flight paths and timing allow organizers to calculate safety risks, and prepare accordingly.
What are the disadvantages of laser light displays and drone shows?
The website of Emerald Owl Productions states that laser lights display are not fired straight up like fireworks, due to safety concerns involving aircraft. This also means that laser light displays have to take place in closer proximity to the audience.
In the case of drone displays, a 2022 article by Colorado Public Radio states that drone shows can be much more expensive than traditional fireworks, citing a case where officials in Vail said their drone show cost three times more than a fireworks display. The official, however, added that the cost is worth it to help the community adapt to changing climate.
Another disadvantage involving drone displays is battery life, as some drones' batteries only last about 12 to 13 minutes, according to the Government Technology magazine article, while fireworks shows typically last about 20 minutes. This means more drones are required in order for organizers to have a longer drone display show. 
Have other countries canceled fireworks displays for their national holidays?
Yes.
According to reports by Canada's Global News, some cities in that country have canceled fireworks displays for 2023's Canada Day celebrations due to a number of factors, including cost, wildfire threats and restrictions, and concerns over the impact of fireworks displays on air quality.
Have drone displays been featured for major events other than the 4th of July?
A number of major events in recent years have featured drone displays.
(Drone portion starts at 0:30 in the video above)
During the 2017 Super Bowl, drones were featured during the halftime show featuring Lady Gaga. According to an article by The Verge, the drones appeared in a pre-recorded portion of the halftime show.
(Drone portion starts at 1:57:41 in the video above)
In 2018, the Winter Olympics Opening Ceremony in PyeongChang, South Korea featured a drone display. According to an article by Wired, 1,218 drones were involved in the display.
(Drone portion starts at 2:58:57 in the video above)
In 2021, the Summer Olympics Opening Ceremony in Tokyo also featured a drone display. According to an article by Australian news outlet 7News, this drone display involved 1,800 drones.