23-year-old man dies Saturday afternoon while swimming at Lake Lanier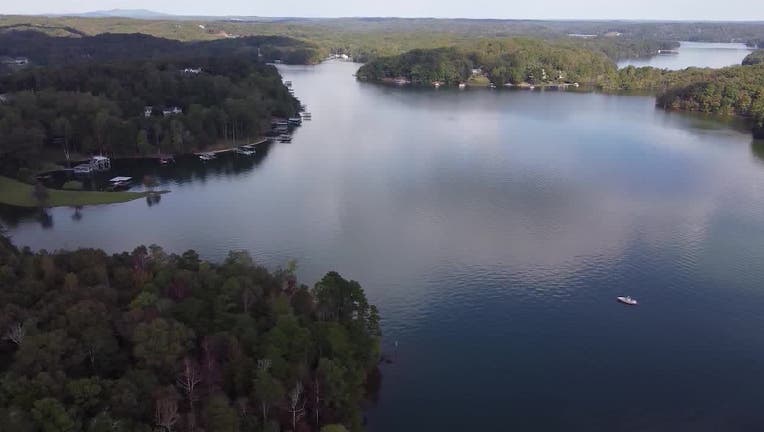 article
GWINNETT COUNTY, Ga. - A 23-year-old man is dead after going for a swim in Lake Lanier on Saturday, according to the Georgia Department of Natural Resources.
Just before 3 p.m., game wardens, Gwinnett County Fire and Emergency Services and the Forsyth County Sheriff's Office responded to a possible drowning at Lake Lanier in Gwinnett County.
They were told that a man went under while he was swimming and did not come back up.
Soon after arriving, game wardens were able to find the man's body in approximately 10 feet of water. Gwinnett Fire's rescue swimmers were able to recover the body.
The man has been identified as 23-year-old Edgar Steven Cruz Martinez. His city of residence is unknown.
This is the third death at Lake Lanier in recent months and the 7th drowning this year at Lake Lanier. 
A 61-year-old Stone Mountain man disappeared after he dove off the side of a boat in late July. His body was recovered a few hours later.
LAKE LANIER DEATHS: 2 MEN DROWN AFTER DEADLY WEEKEND AT GEORGIA LAKE 
A 27-year-old man also disappeared while swimming in the lake the same day.
Just a few days before, 24-year-old Thomas Milner was killed when he was electrocuted after jumping off of a dock into the lake.
How many people have died at Lake Lanier?
More than 200 people died at Lake Lanier between 1994 and 2022, according to USA Today and Georgia DNR. 
In 2018 and 2019, there were 8 drownings each. In 2020, there were 7 drownings; 4 drownings in 2021; and 6 drownings in 2022. There were 48 additional deaths (boating fatalities) for those same years.
There have been 7 drawings and 0 boating fatalities at Lake Lanier so far this year. 
Lake Lanier, which hosts several million visitors a year, was constructed by the U.S. Army Corps of Engineers in 1956. It is the largest lake in Georgia and is named after Georgia poet and musician Sidney Lanier. Its full name is Sidney Lanier Lake. 
More than 1,000 people, 20 cemeteries, 15 businesses and 6 churches were moved to make way for the lake, including the town of Oscarville, which was a predominantly Black town. 
Many people believe more than 700 people have died at Lake Lanier since it was constructed in the 1950s. Because of this, many people believe that the lake is cursed and haunted.
In July, the ex-wife of R&B singer Usher made headlines when she started an online petition to "drain, clean and restore" Lake Lanier.
Tameka Foster's 11-year-old son Kile Glover was killed after a boater struck him while he was floating in an inner tube on the lake in July 2012.
Why do so many people die at Lake Lanier?
The explanation for why so many people have died at Lake Lanier in recent years is a complicated one. First, with 7 to 11 million visitors per year, things are bound to happen. 
Additionally, the waters of Lake Lanier can be dark and murky. That makes rescues difficult if someone goes overboard or goes under. 
Another major issue is boating under the influence. According to Georgia DNR, there were more 525 BUIs between 2008 and 2018. 
And, people – especially kids – aren't wearing life jackets when they are at the lake, officials say. 
Is the Lake Lanier really haunted?
Last but not least, some people believe that there are ghosts in the water that pull swimmers and boaters under as revenge for the past. 
One of the ghosts is the Lady of the Lake.
As the story goes, two ladies were driving on Dawsonville Highway in 1958 when Susie Roberts lost control and drove into the lake near Lanier Bridge. 
The portion of the lake was 90 feet deep and the ladies simply disappeared. A year later, a fisherman found a body floating near one of the bridges. That body became known as the Lady of the Lake. In 1990, a construction crew working on a bridge expansion found the car with the remains of another woman inside – most likely Susie Roberts. 
Other ghosts hanging around the lake may be connected to the 20 cemeteries that were moved before construction of the lake begun. It's possible that the occupants of those cemeteries were angry at being disturbed and decided to haunt the lake. It's also possible that not all the graves and their occupants were moved.