Recipe: Sheet Pan Fajitas with Mexican Street Corn Salad
Food and Lifestyle Expert Lisa Washington gives some quick at Cinco de Mayo inspired home recipes. 
Sheet Pan Fajitas 
Ingredients:
4-6 boneless, skinless chicken breasts
3 bell peppers, thinly sliced, use multiple colors, if you desire
1 red onion, thinly sliced
2 Tbsp olive oil
Sea salt and pepper, to taste
2 tsp chili powder
1 tsp cumin
1 tsp smoked paprika
1/2 tsp garlic powder
1 tsp oregano
Juice of 1 lime, to drizzle over top
3 tbsp cilantro, chopped, as garnish
Optional toppings: sour cream, avocado slice, shredded cheese and your favorite salsa.
Serve with flour tortillas or butter lettuce cups.
Instructions:
Preheat oven to 425 degrees F.
In a large bowl, combine chili powder, cumin, paprika, garlic powder and oregano. Mix the spices together and add the chicken breast into the spice mixture, until the spices cover the chicken breast.
Spread the seasoned chicken, peppers and onions on a baking sheet sprayed with some cooking spray, drizzle with olive oil and season with sea salt and pepper.
Bake in the oven for about 20 to 25 minutes. Until chicken is cooked through. Then turn the oven on broil if you desire to get some char on your peppers and onions. Broil for 2 minutes or until you get the char you desire.
Remove from oven and slice the chicken breast into thin slices. You can do this prior, but I find that cooking the chicken breast hold leaves the chicken much more juicer.
Drizzle with lime juice and sprinkle with fresh cilantro. Serve with lettuce cups or tortillas and your favorite toppings.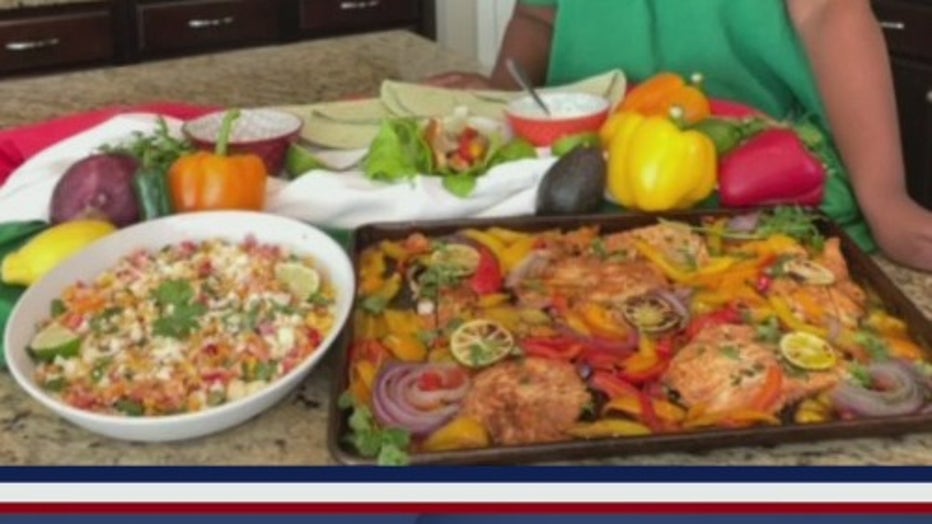 Mexican Street Corn Salad
Ingredients
4 ears fresh corn, husked
1 tbsp evoo
1 1/2 tablespoons sour cream
1 garlic clove, minced
Zest and juice of 1 lime
1/3 cup chopped scallions
1/4 cup crumbled Cotija, or feta cheese
1/4 cup finely chopped cilantro
1/4 teaspoon smoked paprika
1 jalapeño, diced
Sea Salt, to taste
Instructions: 
Slice the kernels off the corn and add to the bowl.  Season with salt and smoked paprika.
In a medium sauce pan add 2 tbsp of olive oil over medium heat. Add the corn and cook until the kernels have caramelized, about 5-7 minutes. Remove from heat and add to a medium bowl. Allow to cool.
Add to the cooled corn, the sour cream, garlic, and lime zest and juice. Then add in the scallions. Stir to incorporate everything, then add the cheese, cilantro, smoked paprika, jalapeño, and salt. Season to taste and serve immediately or chill until ready to serve.