SEC seeks to continue recent success in high-profile openers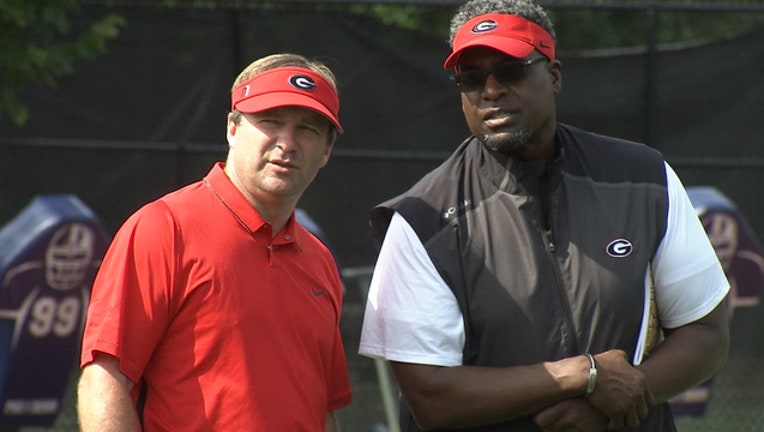 article
KNOXVILLE, Tenn. (AP) - With so many high-profile intersectional matchups on neutral sites, the Southeastern Conference's opening-week schedule bears a striking resemblance to a bowl lineup.
Alabama faces Southern California in Arlington, Texas. Ole Miss meets Florida State in Orlando, Florida. LSU takes on Wisconsin at Lambeau Field in Green Bay, Wisconsin. Georgia meets North Carolina in Atlanta. The trend continues Sept. 10 when Tennessee plays Virginia Tech at the Bristol Motor Speedway in Bristol, Tennessee.
And that doesn't even include prestige nonconference games taking place on campus the first two weeks of the season. Auburn hosts Clemson and Texas A&M hosts UCLA on the season's opening weekend. Arkansas visits TCU on Sept. 10.
"Whether it's Clemson or whether it's UCLA, whatever that is and anybody in between, this league's not ducking anybody," Texas A&M coach Kevin Sumlin said. "I think that says a lot about the scheduling that's going on."
The SEC's knack for scheduling these high-profile openers — and winning them — has helped the league make an early case each year that it's the nation's toughest conference. The SEC is criticized for scheduling Football Championship Subdivision programs or low-level Group of Five teams in November, but it doesn't shy away from anyone early.
SEC teams went 5-0 in nonconference games at neutral sites during last season's opening week, which included Alabama starting its national title run by beating Wisconsin in Arlington, Texas. The SEC was 3-0 in neutral-site games during the opening week of 2014. Six of those eight games were against other Power Five teams.
An SEC team hasn't lost a neutral-site game during the opening week of a season since 2013, when Mississippi State fell to Oklahoma State in Houston and Western Kentucky knocked off Kentucky in Nashville.
These games may take place long before the playoff committee releases its rankings, yet they still have an impact.
"Strength of schedule is one of the factors that the committee considers. And the committee evaluates teams based on their full schedules," College Football Playoff executive director Bill Hancock said in a statement. "Games against top opponents, no matter when they are played, are significant."
The SEC could have a tough time continuing its opening-week success this year.
In recent years, the SEC has benefited from partisan crowds at games that technically took place at neutral sites. That certainly was the case when Texas A&M beat Arizona State in Houston and Tennessee defeated Bowling Green in Nashville last season.
This season, LSU must face Wisconsin at the home of the Green Bay Packers. Ole Miss isn't expecting a friendly reception when it meets Florida State in Orlando.
"I did get a kick out of our AD telling me it's a neutral-site game, and I'd use that in quotes, 'neutral site,'" Ole Miss coach Hugh Freeze said. "I explained to him, anytime you go on the road to a neutral-site game, and you have to use silent cadence, it shouldn't be considered a neutral site."
These high-profile openers allow the SEC to maintain its schedule strength while continuing to play only eight conference games. The Big Ten is joining the Pac-12 and Big 12 in having nine-game conference schedules this year, leaving the SEC and Atlantic Coast Conference as the only Power Five leagues still playing only eight conference games.
Tennessee athletic director Dave Hart, who favors the nine-game conference schedule, said the league hasn't had "a second's worth of discussion" on a possible switch ever since SEC presidents and chancellors voted in 2014 to keep the eight-game schedule.
If only some of these attractive intersectional games could be spread out. Instead, the SEC often has one dull week in November while other Power Five leagues are in the heart of their conference schedules.
Check out the SEC schedule the week of Nov. 19. Alabama, Auburn, Florida, Kentucky and South Carolina are all playing FCS programs. Texas A&M is hosting Texas-San Antonio, LSU faces South Alabama and Georgia meets Louisiana-Lafayette. That week also features Arkansas-Mississippi State, Ole Miss-Vanderbilt and Missouri-Tennessee conference matchups.
It's worth noting that many of the SEC teams scheduling FCS foes or Group of Five teams in mid-November are facing in-state rivals the following week. For instance, South Carolina faces Western Carolina the week before it visits Clemson. Alabama and Auburn both play FCS foes the week before their Iron Bowl showdown.
"I think television's issue, which is valid, is that the inventory on that second-to-last weekend becomes limited," Hart said. "We talk about this a lot. It's an ongoing conversation in SEC meetings where we're talking television, but I don't think you'll see an abrupt or immediate change in that regard. I do think there will be an overall effort — it's already underway — for the Southeastern Conference to do the best they can, and they work hard at this, to provide the best inventory feasible and possible for our television partners."
The SEC's current scheduling strategy currently creates one pretty dull weekend in November, but its opening week offers must-see TV. Those high-profile matchups to kick off the season enable SEC teams to deliver quite an opening statement.
"One thing that this football team has done historically is that when they know that they are going to play a very quality football team to open, they prepare well," LSU coach Les Miles said.
___
Associated Press sports writers Charles Odum and Kurt Voigt contributed to this report.
___
AP college football site: http://collegefootball.ap.org