National League snaps All-Star Game losing streak, tops AL 3-2 behind Elias Díaz homer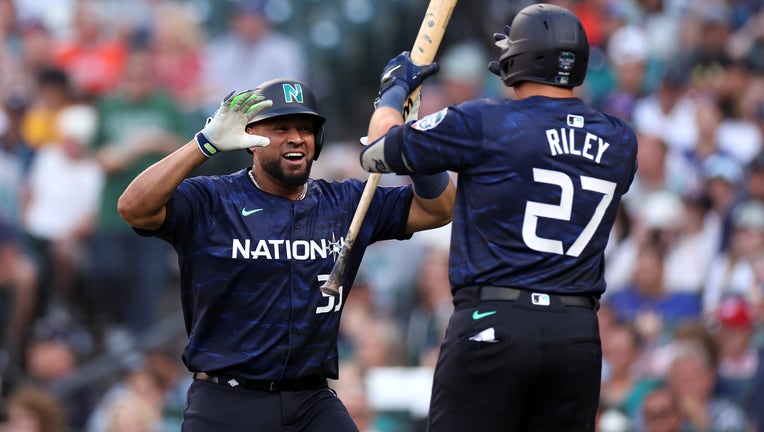 article
SEATTLE, Wash. - Shining brightly in the Emerald City, the National League snapped a losing streak that lasted more than a decade.
An unheralded catcher from Colorado delivered the big blow.
Elias Díaz hit a two-run homer off Félix Bautista in the eighth inning, and the NL snapped a nine-game losing streak in the All-Star Game with a 3-2 win over the American League on Tuesday night.
The NL won for the first time since an 8-0 victory in 2012 in Kansas City, and Díaz became the first Rockies player to win the All-Star MVP award.
"It feels incredible. When we all got here, we all talked about how we were going to bring home the win," said Díaz, who was non-tendered by the Pirates at the end of 2019. "I just didn't realize it was going to be me to bring home the win."
Díaz drove a 2-2 pitch from Baltimore's hard-throwing closer deep to left to put the NL in front. Díaz was the lone representative for Colorado in his first All-Star Game appearance.
"It does matter. We wanted to win, the American League we wanted to win," Bautista said through an interpreter. "But overall I think that it's an experience I'll never forget and just wish that would have been a little bit different."
Díaz has nine homers this season, but hadn't hit a long ball since June 23 against the Los Angeles Angels.
"As soon as he walked in the clubhouse and I met him, he said, 'I'll do anything you want. If I play, I play. If I don't, I don't. I'm just so happy to be here,'" NL manager Rob Thomson said. "So for him to do that, it's fantastic."
For most of the night, the All-Star Game was a pitchers' duel highlighted by a couple big hits and some excellent defense.
ATLANTA BRAVES PLAYERS AT ALL-STAR GAME
SEATTLE, WASHINGTON - JULY 11: Spencer Strider #99 of the Atlanta Braves looks on prior to the 93rd MLB All-Star Game presented by Mastercard at T-Mobile Park on July 11, 2023 in Seattle, Washington. (Photo by Steph Chambers/Getty Images)
It got nervous for the NL with Philadelphia closer Craig Kimbrel on the mound in the ninth.
"I threw way more pitches than I wanted to on an off day," Kimbrel joked.
Wander Franco led off with a fly ball to the warning track, and Kimbrel issued two-out walks to Kyle Tucker and Seattle star Julio Rodríguez.
The 22-year-old Rodríguez was in position to close it out in front of his home crowd.
"I was definitely trying to win it. But it was a situation where I had to pass the baton," he said.
Kimbrel recovered to strike out José Ramírez to end it. Kimbrel also pitched in the previous NL win, recording two outs in 2012.
"The ninth inning in the dugout was just a lot of fun to experience," said San Diego's Josh Hader, who pitched the eighth for the NL.
Yandy Díaz hit a solo homer in the second and Bo Bichette's sacrifice fly in the sixth gave the AL a 2-1 lead.
J.D. Martinez doubled and scored on Luis Arraez's single in the fourth against Seattle's George Kirby, tying it at 1. Lourdes Gurriel Jr. appeared to tie the game again in the seventh when his shot down the left-field line was originally ruled a homer but was overturned as a foul ball on replay.
The All-Star Game returned to Seattle for the first time since 2001 when the Mariners were in the middle of their magical 116-win regular season, Cal Ripken Jr. said goodbye to the All-Star stage and Tommy Lasorda took a tumble.
Gerrit Cole became the first New York Yankees pitcher to start the All-Star Game since Roger Clemens in that 2001 game. He needed a pair of spectacular leaping catches from Adolis García and Randy Arozarena near the wall to escape the first inning unscathed.