Hawks Beat Heat Behind Teague's 26 Point Effort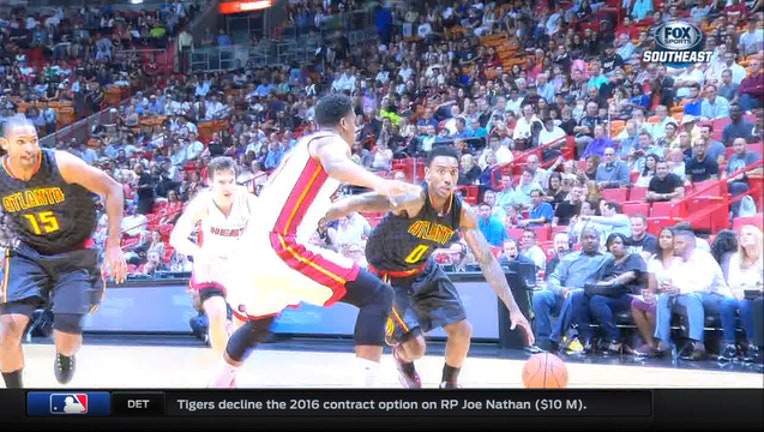 article
MIAMI (AP) - The formula is clear for the Atlanta Hawks. Plenty of balance and sticking with what works was good enough to win 60 games last season, and it seems to be just fine so far this year.
Jeff Teague used his speed to break down the Miami defense time and again on his way to 26 points and nine assists, Al Horford scored 17 points and the Hawks saw what was a 15-point lead trimmed to four midway through the fourth quarter before beating the Heat 98-92 on Tuesday night.
Paul Millsap had 12 points and 10 rebounds and Kent Bazemore added 10 points for Atlanta, which has won four straight following a season-opening loss.
Hassan Whiteside finished with 23 points and 14 rebounds for Miami, doing so on 11-for-12 shooting. According to STATS, Whiteside was the third Heat center to shoot at least 11 for 12 and block four shots in a game, joining Alonzo Mourning and Shaquille O'Neal.
Dwyane Wade scored 21 points despite spending a long stretch of the second half back in the Heat locker room after feeling a migraine start coming on. He took some medicine and returned in the fourth quarter.
Goran Dragic scored 19 points and Chris Bosh grabbed 14 rebounds for the Heat, who shot just 5 for 28 from 3-point range.
Miami got within 79-75 with 8:27 left on a layup by Mario Chalmers, the subject of trade rumors. But on the next Atlanta possession, Teague set up Justin Holiday for one of Atlanta's seven 3-pointers on the night and the Hawks kept at least a two-possession lead the rest of the way.
"We were able to fight back. That is an admirable quality of this group," Heat coach Erik Spoelstra said. "But learning how close the margin for error can be is a lesson."