Frank W. 'Sonny' Seiler, progenitor of the 'Uga' tradition dies at 90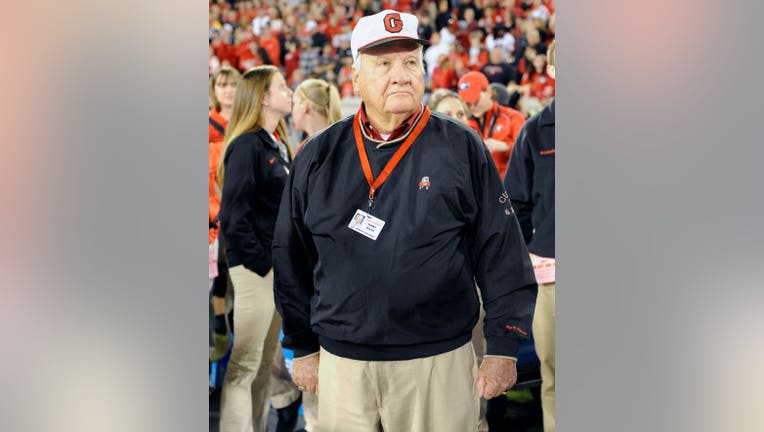 article
ATHENS, Ga. - The man behind the Georgia Bulldogs' beloved football mascot, Frank W. "Sonny" Seiler, has died. He was 90.
Seiler, who was born on Feb. 20, 1933, is a well-known Savannah attorney, but might be most notable for his six-decade-long installation of Georgia's legendary mascot, "Uga."
The Uga tradition
It began back in 1956 when he and his wife, Cecelia, brought their English bulldog to the season-opening football game at the urging of then-coach Wally Butts. The tradition continues to include present-day "Uga XI."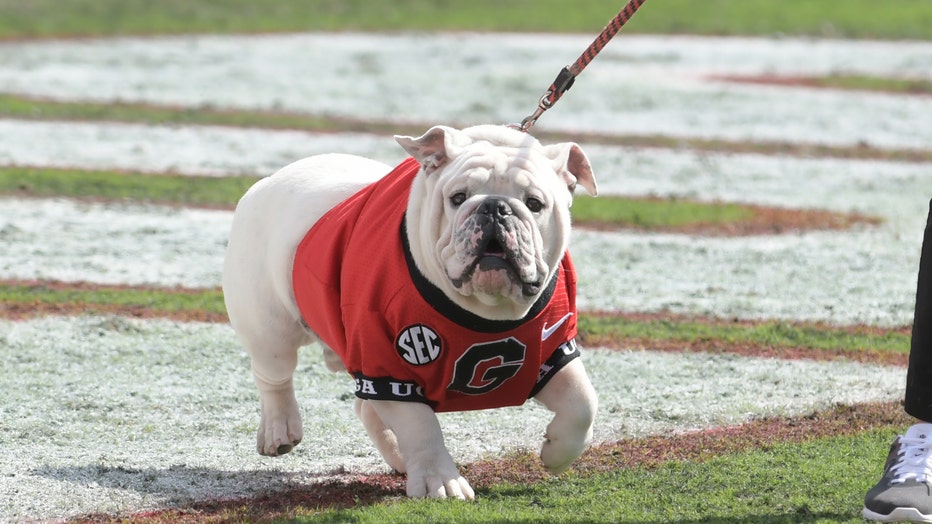 Georgia Bulldogs mascot Uga XI walks on the field before the Georgia G-Day Red and Black Spring Game on April 15, 2023, at Sanford Stadium in Athens, GA. (Photo by Jeffrey Vest/Icon Sportswire via Getty Images)
Uga has been named the "Nation's Best College Mascot" by Sports Illustrated the past 67 years.
"I want to extend my heartfelt condolences to the Seiler family on behalf of the entire Bulldog Nation," said UGA President Jere W. Morehead. "Sonny's contributions to the University of Georgia as a student and alumnus were innumerable, and his loyalty to his alma mater was unmatched. His legacy will live on forever in the history and traditions of this great institution."
Who was Sonny Seiler?
Seiler was a "Double Dawg" graduate of the University of Georgia. He was an active Senior Partner of the law firm Bouhan Falligant which he joined in 1960.
Seiler graduated from the University of Georgia with a B.B.A. in 1956 and later received his J.D. from UGA. He was president of Sigma Chi fraternity and was president of the Interfraternity Council. He was a member of the Varsity Swim Team, a Greek Horseman, elected to ODK Honor Society, and was a member of Phi Delta Phi legal fraternity. While at UGA, Seiler was elected to Sphinx, which is the highest honor attainable for a male student. He was also president of the Gridiron Secret Society. Following law school, Seiler was commissioned Second Lieutenant, United States Infantry and served in the United States Army as a First Lieutenant. He also served six years as an officer in the Georgia National Guard, 230th Field Artillery.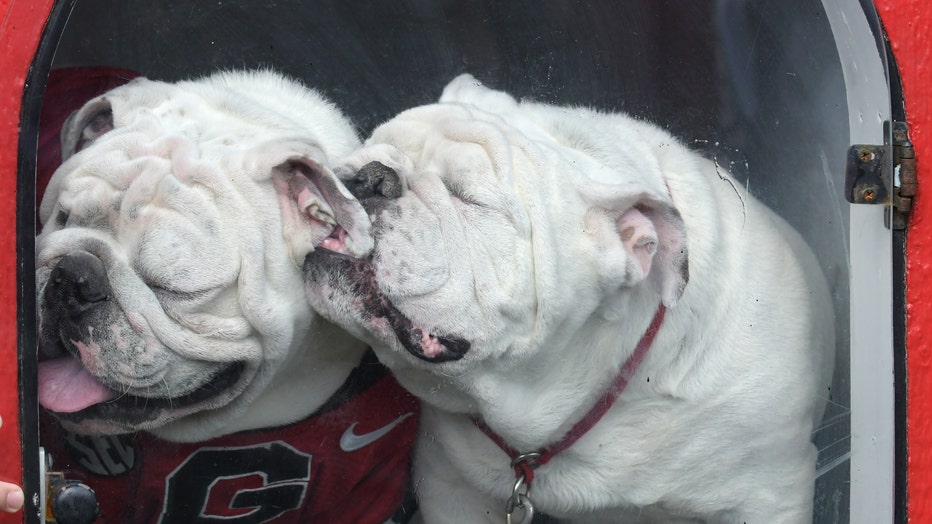 Georgia Bulldogs mascots Uga X and Uma XI play before the Georgia G-Day Red and Black Spring Game on April 15, 2023, at Sanford Stadium in Athens, GA. (Photo by Jeffrey Vest/Icon Sportswire via Getty Images)
Seiler, while having broad experience in the law, was well known as being the lead defense counsel in the Jim Williams' murder trials that were later made famous by their inclusion in John Berendt's book Midnight in the Garden of Good and Evil.
"We are deeply saddened to learn of the passing of Sonny Seiler," J. Reid. Parker Director of Athletics Josh Brooks said. "Mr. Seiler was a dear friend who I cherished and will miss very much. He was an iconic figure at the University of Georgia for the past almost 70 years. Because of his generosity, Uga is the most beloved and recognizable mascot in all of college athletics. We owe him a tremendous debt of gratitude for building a legacy that will continue for years to come. Please join me in lifting the Seiler family up in prayer during this difficult time."
He also has been recognized with the Distinguished American Award given by the UGA Chapter of the National Football Foundation
Seiler has served as a member of the University of Georgia Athletic Association Board of Directors, President of the University of Georgia National Alumni Association, member of the Board of Directors for the Georgia Student Educational Fund, Chairman of the University of Georgia School of Law Board of Visitors, member of the Presidents Club, and member of the Board of Trustees of the University of Georgia Foundation.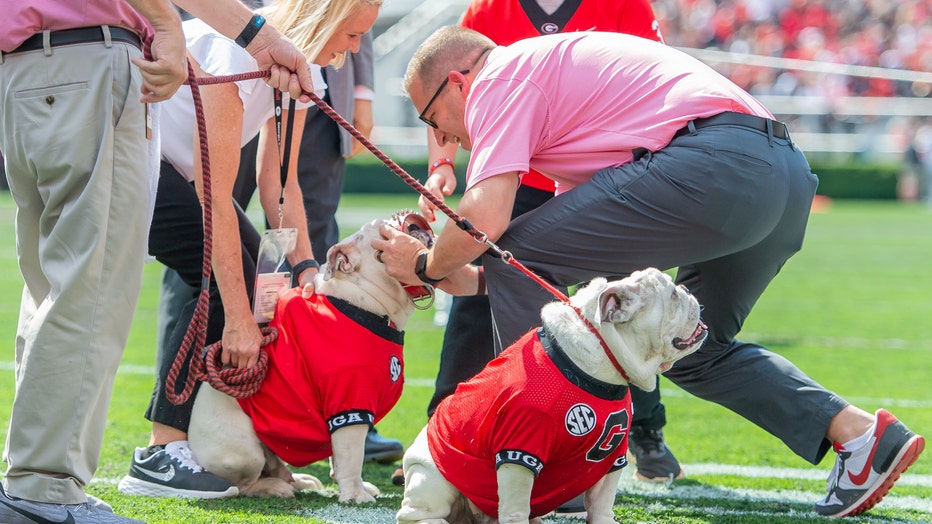 Georgia Bulldogs Athletic Director Josh Brooks puts the Dawg collar on newly introduced mascot UGA XI during the G-Day Red and Black Spring Game on April 15, 2023, at Sanford Stadium in Athens, GA. (Photo by John Adams/Icon Sportswire via Getty Image
Seiler and his wife were recognized by the UGA Alumni Association with its National Alumni Merit Award, the highest recognition given by the University to its alumni in 2001.
The Georgia Sports Hall of Fame presented Seiler with the Erk Russell Spirit Award, which recognizes contributions to sport that mirror the enthusiasm that Russell brought to coaching football.
Seiler was also a member of the Screen Actors Guild having appeared in three motion pictures filmed in Savannah and Hollywood: Gingerbread Man, Midnight In the Garden of Good and Evil, and The Legend of Bagger Vance. He is also the co-author with Kent Hannon of the book, Damn Good Dogs!
Seiler was preceded in death by his wife of 59 years, Cecilia Gunn Seiler. He is survived by four children: Cecelia Swann Seiler and Charles Wilkins Seiler (Wendy) of Savannah, Bess Seiler Thompson (Shannon) of St. Simons Island, and Sara Seiler Story (Todd) of Athens. He leaves seven grandchildren: Margaret Chapman Story, Sara Thompson McKinnon (Bryce), Anna Gibbons Story, David Tennyson Thompson, Seiler Burnette Thompson, William Gunn Story, and Cecil Wilson Seiler. He also leaves one great-grandchild: Whit Bardwell.