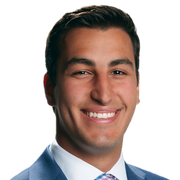 Victor Prieto joined the FOX 5 Sports team in August 2021 and is a sports multimedia journalist. He originally joined the team as a producer for the station's Atlanta Falcons programming. Since then, he's covered the Braves World Series' run, including the clubhouse celebration after clinching the NL East, and has been on the sidelines for almost every Falcons game since he began working.
Before joining FOX 5, Victor worked for the USA Today Network with the Tennessean in Nashville, Tennessee. While there, Victor covered sports and won a Midsouth Emmy for best 'Sports Story - News Feature' about a champion blind golfer. He is also a member of the Sports Journalism Institute, an organization working to enhance diversity in sports newsrooms.
Victor is originally from Miami, Florida, and graduated from the University of Florida (sorry Dawg fans) in 2021 where he was awarded back-to-back National Student Murrow Awards for Video Feature Reporting, Best Documentary from the Broadcast Education Association and Second Place in the Hearst Multimedia National Championships. He was also named the Jim McKay Memorial Scholarship Recipient for Sports Television at the Sports Emmy Awards in New York City in 2017.
Victor most enjoys sharing impactful stories in the world of sports and can't wait to tell more stories within the Atlanta community. When Victor's not out with a camera in the field reporting, you can find him on the golf course or playing basketball. He'll also never turn down a plate of Cuban food.