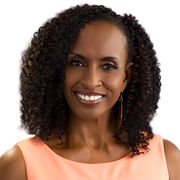 Portia Bruner
Anchor/Reporter
From the legendary Nelson Mandela to giggling children on the playground, Portia Bruner loves talking to people whose stories leave an impression on viewers and make a difference in the lives of others.
Portia joined the FOX 5 Atlanta News team as a general assignment reporter in July 2003. She anchors FOX 5 News at Noon, then reports for FOX 5 News at 5 p.m. and 6 p.m. She also fills in regularly as an anchor on Good Day Atlanta and the evening weekday newscasts. Portia has built a reputation for being a compassionate and dynamic storyteller who genuinely cares about the people whose life events she is covering. She specializes in breaking news, government affairs, consumer news and human interest stories and enjoys giving her viewers information they can use long after her stories air.
Portia also loves to share her money-saving shopping tips. Her "Bargains with Bruner" features spotlight the treasures she and FOX 5 Atlanta viewers find in thrift shops across metro Atlanta.
Before joining FOX 5 News, Portia was the consumer reporter for WTKR-TV in Norfolk, Virginia. Prior to her work in Virginia, she was a 5 p.m. co-anchor and a general assignment reporter for WAPT-TV in Jackson, Mississippi. She started her professional career as a researcher and producer in the Consumer News Unit of NBC4-TV in Washington, D.C. — just a few weeks after she graduated Magna Cum Laude from Howard University in 1995.
Portia was recently named a Top 10 Finalist in the 2019 "Best Self Atlanta Magazine Over 40 & Fabulous" Contest. She was selected for her commitment to community service and for her candid disclosure of her struggles with psychogenic stuttering and depression. She is a passionate advocate for self-care, professional therapy, meditation and prayer and often shares stress-management tips with FOX 5 viewers.
Portia has served as the Vice President of Broadcast for the Atlanta Association of Broadcast Journalists and enjoys mentoring girls, young women and aspiring journalists. While she has received several awards for her community service and storytelling, her most rewarding job title is "Mother." She has two wise, witty and wonderful sons who are the muse for her popular "Morning Mommy Moments" posts on Facebook. Born in D.C. and raised in Denver, Colorado, Portia has proudly called South DeKalb County home since 2002.
The latest from Portia Bruner
Teachers from the Decatur City School District rallied silently in front of the school board headquarters Tuesday to express their concerns about the new plan to have all employees return to work by October 12 and all students in class by the end of November. Teachers told FOX 5's Portia Bruner the new plan is a sharp contrast to what was initially proposed by school officials in July.
Despite their differing political views, fellow Georgia voters agree the late Supreme Court justice left an indelible print on the fabric of America.
Atlanta Mayor Keisha Lance Bottoms said the rank and file members of the Atlanta Police Department are still recovering from the blow to morale following the arrests and terminations of officers involved in violent or deadly encounters during the last few months of racial and civil unrest across the nation.
Street racing is not a violent crime, but for drivers who get stuck in the middle of one of the impromptu events, it can certainly be an irritating crime.
DeKalb County just received top honors for using technology to curb the spread of the deadly coronavirus. County CEO Michael Thurmond said he's proud of the accomplishment, but said it's going to take a continued partnership between the public and private sector to keep up the fight against COVID-19.
Two dogs are the latest recruits to join the Conyers Police Department and they're currently undergoing highly specialized training before they are released for duty.
The Derrick Boazman Walking for Wellness and Social Club meets every Monday, Wednesday, and Friday here in southwest Atlanta.
Rounds of gunfire left neighbors along White Dove Drive in Henry County terrified overnight. One woman, who did not want to share her name, said one of the bullets fired early this morning hit her home.
The Georgia Bureau of Investigation is expanding its Gang Task Force, created in metro Atlanta in the spring of 2019, to middle Georgia.