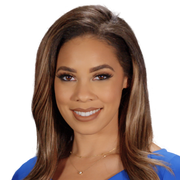 Courtney Bryant joined FOX 5 Atlanta in January 2020 as co-anchor of FOX 5 News at 5pm, 6pm and 10pm on weeknights.
Before joining FOX 5, Courtney was an evening anchor at KMOV-TV in St. Louis, Missouri. There she was one of only two reporters granted a sit down interview with Missouri governor Eric Greitens, who resigned following allegations of sexual misconduct and blackmail. Courtney also covered the 2016 presidential debate between President Donald Trump and Hillary Clinton at Washington University, and led extended breaking news coverage of area-wide unrest following the acquittal of St. Louis police officer Jason Stockley. 
 
Courtney is originally from Los Angeles. She graduated from Pepperdine University with a degree in Broadcast Journalism. 
 
Courtney previously worked for the former Israel Broadcasting Authority in Jerusalem. She also worked for a television station in Bakersfield, CA and spent several years freelancing as an entertainment reporter in Los Angeles.
Courtney is a member of the National Association of Black Journalists.
The latest from Courtney Bryant