Women's recovery home struggling to feed families in wake of COVID-19
DAWSONVILLE, Ga. - Caseworkers at the Abba House, a women's recovery center in Dawsonville, are bracing for a spike in women needing help escaping from abuse and domestic violence. They said the coronavirus is now limiting the number of women they can help.
The Abba House provides a 15-month recovery program to teach women career and life skills, so they can reunite with their children or escape an abusive relationship, but the coronavirus outbreak has shut down their catering business, limiting their ability to earn income.
"Isolation is dangerous for people in recovery," said Amber Garner, an Abba House caseworker, who went through the program herself.
Sign up for FOX 5 email alerts
Garner is helping women through recovery, a process she said is now even harder because of the coronavirus.
"We form our program on the basis of relationships and how healing comes out of that, and when addicts are stuck isolated, usually good things don't come out of that," said Garner.
The home houses women and children escaping abuse and those coming from prison, teaching life and career skills.
"For those of us who have been incarcerated for a long period of time, it gives us hope, it gives us opportunity, it gives us something else to look forward to other than the cycle of insanity we've been in for years and years," said Kelly Howell, a student in the program.
The women's hope has dimmed because the catering business the women run out of the home is nearly at a standstill, leaving the women with almost no income to support their children.
"We are really accustomed to being able to receive food donations, and that's what the girls live on a lot of the time, and because of the frenzy that's going on at the grocery stores, there's not much left over to donate to places like this," said Garner.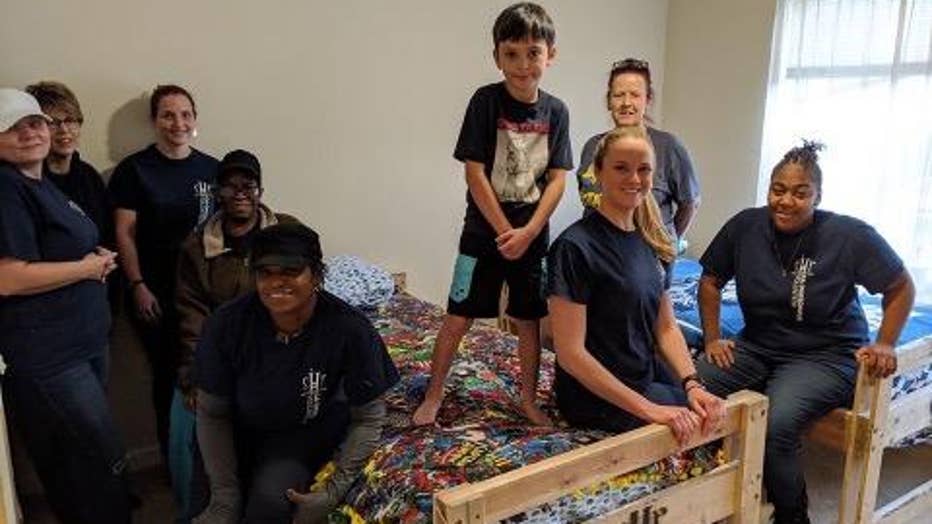 Download the FOX 5 Atlanta app for breaking news and weather alerts.
They even had to stop their small food bank that helped feed other community members. "That has had to be shut down because we don't even have enough to feed the women here," said Garner.
There is an even greater worry more women will now need their services.
"You'll see a lot more suicide," said Chris Sharp, the co-founder and president of the Abba House. "And overdoses and kids in foster care," added Garner. "People can go and order from different restaurants and have alcohol brought back to their homes, so if you think about a violent situation and homes that already have issues, it's not going to play out very well," said Garner.
"My heart breaks for the community that can't come in, that has to just live in the hot mess until more services are opening, so were trying to be careful and take them in as much as we can, but other than that, there's not a lot we can do at this point," said Sharp.
That's why these women hope the community will look out for each other and realize that this crisis is temporary.
"Take the opportunity to build those relationships and hold them close and to not destroy them while we are in this caged environment," said Sharp.
For general inquiries, please visit abbahouse.com or call the main number at 678-208-2000.
For Intake or Admissions, click HERE or contact intake coordinator Joan at 770-402-7491 or intake@abbahouse.com.
To arrange a donation drop-offs of food or other items contact please contact Amber at 678-736-3386 or Pr@abbahouse.com.
Checks can be mailed to PO Box 1480, Dawsonville, Georgia 30534.
App users click here for live updates
Know how the COVID-19 outbreak is impacting Georiga
Best prevention measures:
Wash your hands often with soap and warm water for at least twenty seconds.

If soap and water are not available, use an alcohol-based hand sanitizer.

Avoid touching your eyes, nose, and mouth with unwashed hands.

Avoid close contact with people who are sick.

Stay home when you are sick.

Cover your cough or sneeze with a tissue, then throw the tissue in the trash.

Clean and disinfect frequently touched objects and surfaces
RESOURCES:
RELATED: CoronavirusNOW.com, FOX launches national hub for COVID-19 news and updates.
Live map: Tracking coronavirus in Georgia
-----