Washington Farms does about-face, no longer blames chaperon for playground accident
LOGANVILLE, Ga. - Read the fine print never meant more than it did in a story the FOX 5 I-Team broke about Washington Farms in Oconee County. It's a popular spot for spring berry picking. And children will be at the gates in weeks waiting to walk the corn mazes. But, first, take a close look at your ticket before entering. A single mom, taking her daughter and a friend for a day of fun, didn't, and she found herself being held responsible for a playground accident there.
Kyra Powell keeps her leg pretty covered up these days because she's embarrassed by the sizable L-shaped scar she got from the playground equipment at Washington Farms.
"Preferably wish it had never happened," she told the FOX 5 I-Team over the summer. But, the accident did happen. It was almost two years ago on a piece of equipment featured on the farm's website. It's in the low ropes challenge area. It's a big-barreled metal bar, low to the ground. It mimics tight-rope walking.
"I remember a giant circular metal pole, really slippery," she recalled about the pole that's sheer design was meant to be a challenge to stand on.
She was 11 at the time and remembers stepping off onto the platform, her tights snagging onto an exposed bolt. It ripped her leg open, and it was serious. Kyra was with her best friend and her friend's mother. Kyra's mom rushed to meet them at the ER.
"When we were back, there fixing her up, they were discussing skin grafts," Amanda Powell told us from her living room.
After moderately successful scar reduction surgery and many rounds of PT later, the Powells sued Washington Farms for failing "to maintain" the playground equipment by having an exposed bolt jutting out. In a legal response, Washington Farms admitted the bolt was in fact sticking out. But then another response came. Washington Farms had the family friend, Elizabeth Sawyer, who took the children to the farm, added to the lawsuit as a defendant. This is where the fine print comes in.
When you purchase the tickets, the chaperon or adult assumes the risk of the equipment. And here's the kicker: even if Washington Farms is "actively negligent."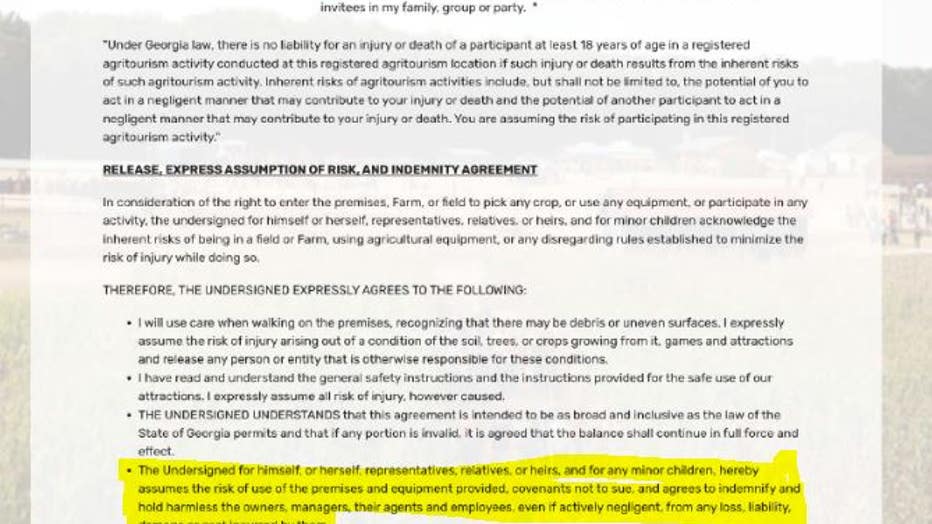 Since we last reported this, Washington Farms has elected to drop Ms. Sawyer as a defendant in this case. The FOX 5 I-Team asked the lawyer for the farm for a comment. She declined. 
We also have been unable to speak to Ms. Sawyer.
Berry season is behind us, but school field trips to the fall hayrides here are around the corner. The question is, will the farm's fine print on the entrance ticket still hold guardians - like teachers or maybe grandma - responsible this year if a child gets hurt at Washington Farms?
We simply don't know yet.