U.S. Rep. Sheila Jackson Lee not attending Inauguration as 'act of conscience'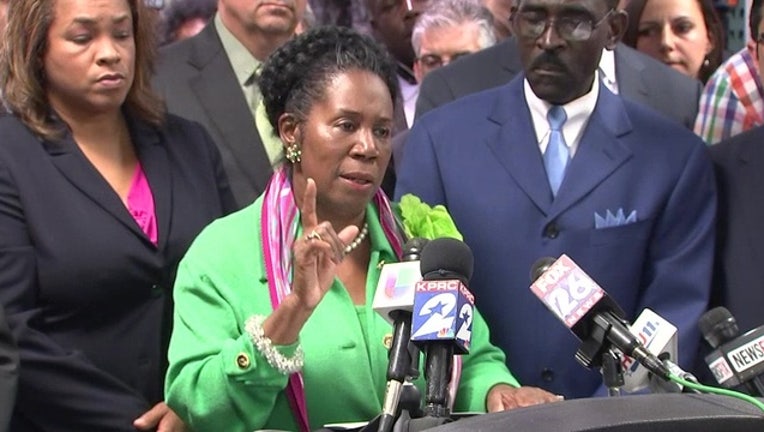 article
HOUSTON (FOX 26) - In support of fellow Congress member John Lewis, U.S. Rep. Sheila Jackson Lee will not attend the inauguration of President-Elect Donald Trump and Vice President-Elect Mike Pence.
In the following statement, Jackson Lee refers to her absence as an "act of conscience" and not a boycott:
As a person of faith, I wish President-elect Donald Trump nothing but the best as he becomes the Commander-in- Chief of our nation.
On November 8th 2016, many of us were deeply wounded and it was a very difficult time.  For me, the concern was for so many of my constituents who had worked so hard for a different result; and the many young people who were for the first time engaged in the democratic process that were seemingly so disappointed.  They were looking for hope.
After the election, although still very concerned, I was willing to give the President-elect the appropriate time, as he moved through his transition, to address the American people with a message of unity.  Unfortunately, the transition was not as smooth as I believe many of us, as Americans, would have wanted it to be.  The call for unity and the embracing of all Americans simply did not come.  The moments of attack continued.  However, many of us still continued to listen. 
As a senior Member of the Homeland Security Committee and Ranking Member on the Judiciary Subcommittee on Crime, Homeland Security, Terrorism, and Investigations, I take national security very seriously.  I was appointed to the Homeland Security Committee in the aftermath of the heinous, murderous, and horrific terrorist attack on September 9, 2011.  The intelligence community is part of my day to day work. 
In the midst of moving toward the inauguration, stark, provocative, sobering, and difficult facts came to our attention.   All of America's intelligence agencies confirmed the detrimental cyber-attack by high Russian officials, including President Vladimir Putin, to steer the election toward one candidate, Mr. Trump, and away from the other candidate.  Rather than accept their report, President-elect Trump chose to make a full force attack on the brave men and women serving in our intelligence community and disparaged their commitment to serving our nation.  There are moments in a public official's life that you always put country over self.  That did not happen and the disappointment was piercing.
As a Member of the Judiciary committee, one of my proudest moments was the reauthorization of the Voting Rights Act of 1965. But an even prouder moment was the enormous number of votes the legislation received from both Republicans and Democrats in the House and Senate.  And when all the Members went to the White House for the signing of the legislation by a sitting Republican President, we celebrated America's love affair with the precious right to vote.  President George W. Bush signed that legislation into law only to now come to 2016 to face huge examples across the nation of voter suppression in this election with newly minted laws that suppressed the voting rights of so many Americans and particularly many in minority communities.  The President-elect gave these voting abuses no credence.
Further, the President Elect has every right to select his or her cabinet. However, it is very difficult when his choice for the nation's highest law enforcement officer, who is supposed to be the arm of justice for the most vulnerable in our nation, and that person holds consistent positions against civil rights and against voting rights.
So, I deliberated on my decision over a period of time.  I am not boycotting this ceremonial inaugural event.  I have decided in good conscience I cannot go!  John Lewis, a man who bled for freedom made his choice and made his decision without rancor or hysteria. But that was not the tone of the response he received; and John did not call for any boycott!  This is not a boycott!  This is an act of conscience! The President-elect could not refrain from a full-fledged personal attack on Congressman John Lewis.  He failed to offer even a small olive branch.
The State of the Union will be the President's first message directly to Congress and the American people on how he will lead - that I will attend - and I am committed to working for my constituents and all of the American people.  I hope the new President will do the same!
So my principles revolving around justice and fairness, an unfettered election, the duty that I have to the national security community and the recognition of the provocative and criminal intrusion by the Russians into our election causes me to be reflective on January 20.
Finally, I did enjoy greeting my constituents as they came to the inauguration.  But as so many Americans, I will be waiting on that olive branch to be extended to all of us by this President; thereby giving us an opportunity to heal, to mend, and for him to recognize that Americans have very similar aspirations and values, and to remember that those who did not vote for the ultimate victor still deserve dignity and respect in this country!