Titanic expert killed in sub implosion honored by James Cameron, others for heeding explorer's call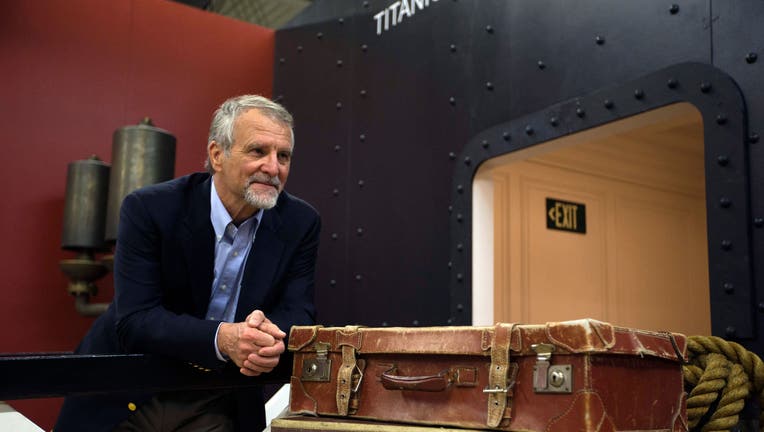 article
Almost a month after he died in a submersible implosion on his way to see the Titanic wreck, a French explorer was remembered Wednesday by filmmaker James Cameron and others as someone whose deep-sea exploits inspired generations of ocean lovers and brought a greater understanding of the famous ship.
Paul-Henri Nargeolet, 77, died when the Titan submersible descended into deep North Atlantic waters on June 18 to explore the Titanic - something Nargeolet had done dozens of times before. Investigators believe the submersible, owned by a private company, imploded during the descent, killing everyone aboard. 
The event, which was streamed live on Facebook, began with a video montage of Nargeolet and his accomplishments that showed him embarking on the first archeological mission to the site more than three decades ago. The presentation included his work to recover "the Big Piece," a 17-ton section of the Titanic's shell plating recovered in 1998.
The video said Nargeolet "inspired generations of ocean lovers, divers and explorers over the world." It also showed Nargeolet manning watercraft over the years and ended with him staring at the sea from the beach. Jessica Sanders, president of RMS Titanic Inc., then stepped to a podium decorated with pictures of Nargeolet and tearfully recounted his accomplishments, his legacy and his "devilish smile."
Sanders, speaking in English and using a French interpreter, said about 80% of the artifacts in the company's collection were recovered by Nargeolet.
"PH was a giant of a man, and an inspiration in and of himself," Sanders said. "To listen to him tell a story was to be in the story itself." 
Cameron, who directed the movie "Titanic," spoke remotely to say he and Nargeolet were drawn together by their shared interest in the wreck site. He said he was "honored to be considered as a peer" by Nargeolet.
"He became over the years, a friend. He lived a large life, a life full of adventure," Cameron said. 
"We took about all the things we could do. It seemed there were so many dives, so many adventures ahead," he continued. "For me the greater risk to humanity is to not go. The explorer's call is to go to the edge and go beyond. ... And humanity is better off for it."
Rory Golden, a deep-sea explorer who describes himself as the first Irish diver to visit the Titanic site, said he met Nargeolet three years ago and bonded quickly over their shared love of the wreck. They would swap stories about their various adventures and what they had learned on them.
"Like me, he loved being on the water and messing around in small boats," Golden said. "We laughed. We laughed a lot. PH never lost that inquisitive mind that made him so special ... He was constantly seeking knowledge about the Titanic. He always had time for others, especially the next generation of explorers."
Some mourners referred to Nargeolet by his nickname, "Mr. Titanic." Nargeolet's contributions to worldwide understanding of the Titanic wreck are without peer, said Malte Fiebing-Petersen, president of the German Titanic Society.
"A lot of the knowledge we have of the wreck site today is based on PH's work," Fiebing-Petersen said.
Hundreds watched the memorial online, with several welcoming the chance for lovers of the Titanic to gather and mourn the loss of Nargeolet.
"I take comfort from the thought that he is now where he always was drawn to. A place which he loved. How fitting for this great explorer," Alexander Korthus said in the chat.
"Amazing tribute. My heart hurts, taking some comfort that he died doing what he loved most," John Lamoreau said.
 Nargeolet was the director of underwater research for RMS Titanic Inc., an Atlanta-based company that owns the salvage rights for the world's most famous shipwreck. His memorial service took place a day after the company opened an exhibit in Paris showcasing thousands of artifacts from the Titanic's debris field. 
"Many of the artifacts on display were recovered by or recovered under the supervision of Paul-Henri Nargeolet and his dedicated team. An intrepid explorer with an indomitable pioneering spirit, PH fearlessly ventured into the depths of the ocean to unravel its mysteries and educate the public," the company said in a social media post.
The company said on its website that Nargeolet will be "always in our hearts and thoughts" and was "a true explorer of his time."
Nargeolet was a former French navy officer who has been remembered by friends as one of the world's great undersea explorers.
Also killed in the implosion were pilot Stockton Rush, founder of OceanGate Inc., the company that owned the submersible; two members of a prominent Pakistani family, Shahzada Dawood and his son Suleman Dawood; and British adventurer Hamish Harding. 
The implosion remains under investigation by multiple authorities, including the U.S. Coast Guard. The Coast Guard has convened a Marine Board of Investigation, its highest level of investigation, and has said it will hold a public hearing in the future. 
OceanGate, which was based in Everett, Washington, announced earlier this month that it suspended all operations. Its website was shuttered on Wednesday save for a single page acknowledging the suspension of operations.