NAACP president calls Soul Fest Concert held under Confederate carving 'disservice' to Black attendees
STONE MOUNTAIN, Ga. - The Atlanta Chapter of the NAACP says hosting the Soul Fest Concert at Stone Mountain Park this weekend is an affront to all Black attendees because of the park's celebration of the Confederacy. 
But, patrons who camped out in front of the Confederate carving told FOX 5 they didn't mind the location.
Hundreds of people, like Wanda Armour, showed up Saturday to groove and sway.
The concert series brings together Soul, Funk and R&B artists from the 80s and more.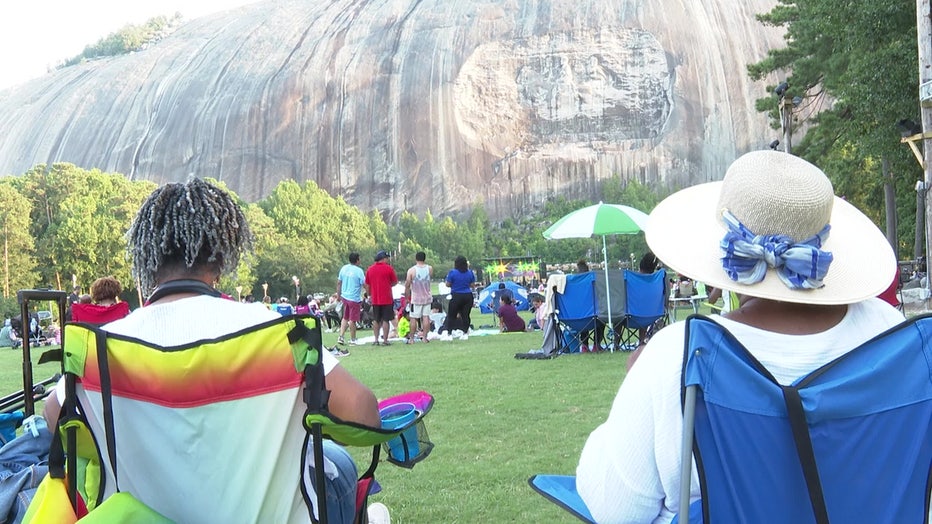 Soul Fest Concert at Stone Mountain Park
LANTERN FESTIVAL, NICKELBACK, GAMING FEST AND FREE PARTIES: THINGS TO DO THIS WEEKEND IN METRO ATLANTA
"We have had so much fun tonight," Armour told FOX 5. "This is the jam right here!"
Soul Fest Concert at Stone Mountain Park
Meanwhile, some civil rights groups are saying no matter how good the music is, the location of the concert should be appalling to everyone.
"Stone Mountain Park had one purpose," said President of the Atlanta NAACP Chapter Richard Rose. "That was to glorify and celebrate the philosophy of the Confederate States of America."
He says having a music festival marketed to Black people right under the carving of Confederate leaders is a way to make people forget about what the monument stands for.
"The objective is to sanitize the racist message of Stone Mountain," he said. "So, we'll play soul music. We'll play this 'whatever,' reaching out to make it all right with Black people."
Armour doesn't agree. 
She sees having a soul music festival under the carving as a way to counteract the original message and unite people. 
"Yes, yes, yes! I hope they do it more often," she said. "I don't know if it's going to be something they do yearly, but I would be here if it is."
Still, Rose says he believes you can't unite people under a monument like that. 
"How do you bring people together right in front of an instrument of hate?" he asked. "There are other parks in Georgia, great parks, and other music venues."
FOX 5 reached out to Stone Mountain Park for a response to the NAACP's concerns, and is waiting to hear back.
The festival will groove on this Sunday.